December 19, 2018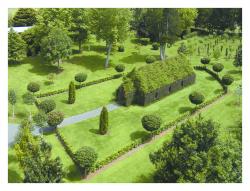 This living, breathing green church was "grown" by New Zealander Barry Cox, who makes his living moving trees with a tree spade. Deeply religious, he decided to merge his two passions to create one of the most unusual places in the world to get married. The "Tree Church" took 4 years to "grow" and opened to the public just this summer. Word quickly spread over the internet. You can book a wedding there for about $2,000. It seats 100. It's also open to the public for tours and photo sessions for a fee.
Read More
---
December 11, 2018
You may not have heard about Prop 12, the latest crackpot measure approved by voters in California, given the wild fires and mass shooting dominating the news from the Golden State.
But you will before long. Check out the rapid response to the latest ballot measure backed by California's cage-free caucus on the Farm Journal website.
Read More
---
December 6, 2018
• Evening massage - 6 p.m.
• Low Self-Esteem Support Group will meet Thursday at 7 to 8:30 p.m. Please use the back door.
• Ushers will eat latecomers.
• The Rev. Merriwether spoke briefly, much to the delight of the audience.
• During the absence of our pastor, we enjoyed the rare privilege of hearing a good sermon when J.F. Stubbs took over the pulpit.
• Next Sunday Mrs. Vinson will be soloist for the morning service. The pastor will then speak on "It's a Terrible Experience."
• Remember in prayer the many who are sick of our church and community.
• The eighth-graders will be presenting Shakespeare's Hamlet in the church basement on Friday at 7 p.m. The congregation is invited to attend this tragedy ...

Read More
---
December 6, 2018
One mile of rural roadway is equivalent to about 8 acres of
cropland and, according to a study by the Iowa-based Soy
Transportation Coalition (www.soytransportation.org), thousands
of miles of under-used rural roads should be converted
to farmland - turning a costly liability into a productive asset.
The idea was prompted by the growing crisis in rural funding
to maintain roads and bridges. Farm associations and
commodity groups have been pressuring state legislators to
increase funding for rural infrastructure. The study pointed
out that there "simply is not enough funding to accommodate
all the needs in rural areas". Taking under-used roads "off the
books" might go a long way to solving the problem.
Read More
---