Send A Gift Subscription - FREE Book Offer!
The perfect gift for anyone that's interested in learning more about what's new in the world of agriculture, farming and gardening. Every 1, 2 or 3-Year Gift Subscription will ALSO include our new FREE Book, "Gardens To Greenshouses" which will be included with the first issue. This free 128-page book is PACKED with hundreds of "made-it-myself" growing ideas for fun and profit!
Download a Gift Subscription Postcard to announce that your gift is on the way.
1-Year Subscription = 6 Issues for ONLY $23.95!
That's 34% OFF the Single-Issue Price!
Each 40-page issue of FARM SHOW is PACKED with stories about:
Amazing "Made-It-Myself" Farm Inventions
Proven Money-Making Ideas to Boost Your Income
Great Shop Tips & Time-Saving Shortcuts
Gardening & Planting Tips
Fun Do-It-Yourself Projects
Maintenance & Repair Tips
Equipment Buying Advice
AND NO ADS!

Note: This is a Secured Web Transaction. However, if you would prefer to print out an order form that you can fax or mail to us, click here.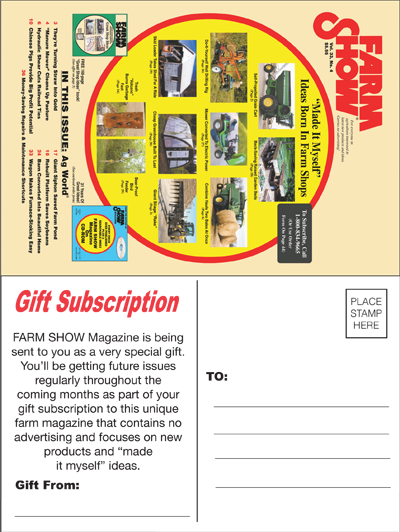 Download Gift Subscription Postcard