Send A Gift Subscription - Two Free Books Offer!
The perfect gift for anyone that's interested in learning more about whats new in the world of agriculture, farming and gardening. Each gift subscription will also receive 2 FREE Books. "Money-Making Ideas To Booster Farm Income - Volume V" a 128 page collection packed with great money-making ideas for around your farm, shop or ranch.
Also included is the 2024 Best of FARM SHOW, a book showcasing the best new ideas, products and inventions from FARM SHOW Magazine. Best of FARM SHOW is a reader favorite and will be delivered with the Jan/Feb issue of FARM SHOW.
1-Year Subscription = 6 Issues for ONLY $25.95!
That's 43% OFF the Single-Issue Price!
Each 40-page issue of FARM SHOW is PACKED with:
Amazing "Made-It-Myself" Farm Inventions
Proven Money-Making Ideas to Boost Your Income
Great Shop Tips & Time-Saving Shortcuts
Gardening & Planting Tips
Fun Do-It-Yourself Projects
Maintenance & Repair Tips
Equipment Buying Advice
AND NO ADS!

Note: This is a Secured Web Transaction. However, if you would prefer to print out an order form that you can fax or mail to us, click here.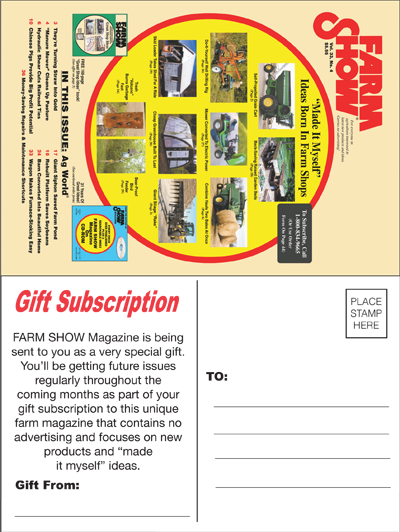 Download Gift Subscription Postcard