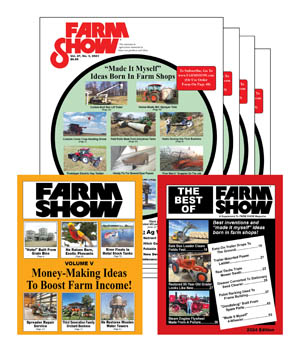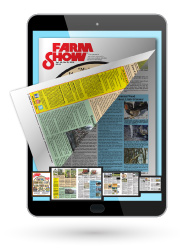 TAKE US WITH YOU!
Access to "Flip-Books" of every issue! Use on your Phone, Tablet or Laptop!
NEW SUBSCRIPTION - Two FREE Bonus Books!
Each new subscription will also receive 2 FREE Books. "Money-Making Ideas To Booster Farm Income - Volume V" a 128 page collection packed with great money-making ideas for around your farm, shop or ranch.
Also included is the 2024 Best of FARM SHOW, a book showcasing the best new ideas, products and inventions from FARM SHOW Magazine. Best of FARM SHOW is a reader favorite and will be delivered with the Jan/Feb issue of FARM SHOW
1-Year Subscription = 6 Issues for ONLY $25.95!
That's 43% OFF the Single-Issue Price!
Each 40-page issue of FARM SHOW is PACKED with:
Amazing "Made-It-Myself" Farm Inventions
Proven Money-Making Ideas to Boost Your Income
Great Shop Tips & Time-Saving Shortcuts
Gardening & Planting Tips
Fun Do-It-Yourself Projects
Maintenance & Repair Tips
Equipment Buying Advice
AND NO ADS!
Choose a Subscription
Please Note: Our Web Transactions are Safe & Secure. But, if you'd prefer to print an order form, fill it out & fax or mail it to us, click here.

THERE'S MORE! Your Subscription ALSO includes:
FREE access to 47 years of FARM SHOW's back-issues - that's more than 35,000 stories about unbelievable made-it-myself farm inventions, great shop tips, time-saving tricks & innovative ideas to help boost your farm income!
What You WON'T Find in FARM SHOW Magazine!
Outside Advertisements! It's our loyal subscribers, not big-advertisers, that are responsible for keeping us in business for 47 years! And we plan to keep it that way!
Our No-Risk Guarantee
If at any time you're not satisfied with your Subscription, we'll refund 100% of your money with no questions asked, no matter how many issues you've received.