June 30, 2020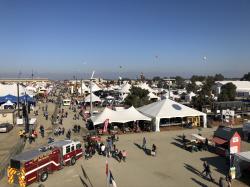 No one knows when the farm shows will return or if they will be the same or changed forever. With the news of shows cancelling this year it leaves many questions. Many state fairs and smaller shows have taken a year off during troubled times and come back over the years.

Some are trying to fill in with virtual online shows. We even considered that here at FARM SHOW Magazine. We had over 1 million page views in April to our website and thought maybe we could do an ongoing virtual show. The consensus here is that there is no real way to Ďkick the tiresí with a virtual show.

The speakers and educational info is easy to do online, that process has been in place for years and every school kid is a pro at it now, after this spring. How do you replace walking down the rows and rows of booths and equipment and stopping to check out what catches your eye while eating a good corn dog?

The work to set up and run these shows is massive. If you have ever been to a setup or tear down from a show you just canít believe the work that goes into bringing everything ag into one place for a short time.

Even with online learning and vendor showings you just canít replace the interactions farmer to farmer or rancher between each other and with vendors that lead to conversations, ideas and sometimes even an idea for something new that ends up in the pages of FARM SHOW Magazine.


See you at the next show, as soon as they are back!
SG