November 4, 2019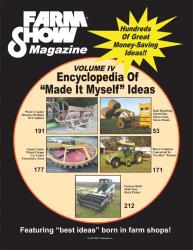 Hot Off The Press!

I've been writing and editing FARM SHOW stories for 41 years. Even after all that time, the creativity that shows up at our door never ceases to amaze me. When you subscribed to FARM SHOW, you became a member of an impressive group of people who look at the world differently than everyone else.

It's my firm belief that the world gets a little better every day and one big reason for that belief is what I've seen for all these years - people coming up with amazing new inventions or ideas and then sharing them with the world, whether by putting a product on the market or simply letting us publish their ideas for the satisfaction of having a positive effect on the lives of others.

Our job here is to get those ideas out to "the market" in a way that makes them easy to digest. That's why we published our first "Encyclopedia of Made It Myself Ideas" 20 years ago and have just finished production of Volume IV of these 482-page books.

Each Encyclopedia features the best "made it myself" ideas from the previous 5 years, complete with contact info and updates as needed. Each book is indexed and cross- referenced so it's easy to find individual stories. These bound books are easy to handle and browse through at your leisure. Even though all the stories we've ever published are available free to our subscribers at our website, there's really nothing like holding one of these books in your hand, whether you're watching TV or sitting in a grain truck waiting to unload. This 4-book "library" of 1,928 pages contains the heart of everything you like about FARM SHOW.
Volume IV sells for $14.95 ($18.95 Can.) plus S&H. Volume I, II, and III are all still available individually for the same price. Or you can buy all 4 books together for $49.95 ($59.95 Can.) and pay the same S&H that you'd pay for one book.

Look for the order form in your issue or go to www. farmshow.com 24/7. Thanks!