September 24, 2018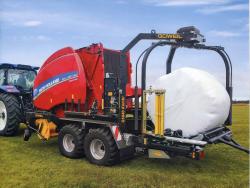 September and October are the busiest times of year for farm shows all over the country. We've just finished trips to 5 shows:
1. Farm Progress Show - Boone, Iowa
2. Husker Harvest Days - Grand Island, Nebraska
3. Big Iron Show - Fargo, North Dakota
4. Farm Science Review - Columbus, Ohio
5. Outdoor Farm Show, Woodstock, Ontario
Coming up are the World Dairy Expo in Madison, Wisconsin and the Sunbelt Show in Moultrie, Georgia. Along the way there are a few other smaller shows here and there that we might get to.
When we go to shows, we're looking for new inventions and ideas. So we walk up and down the isles, looking over each exhibit for something new. The picture above shows a bale wrapper New Holland is showing this fall that mounts on back of a round baler. This configuration has been common in Europe for many years but not as common here.
Anyway, if YOU'RE at any shows this fall and see something new that you think we should know about, take a pic and text it to us with a couple details at 952-465-5019. Thanks.