September 12, 2018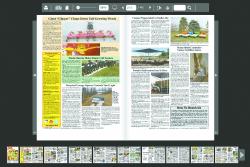 A lot of subscribers don't know that their paid subscription comes with a valuable perk! You can read each and every issue of FARM SHOW in its original format as shown above. Issues are available to read on computer, tablet or phones. What's more, there's a comprehensive database of every story we've ever published that you can search.
To read an issue, log in or register at the top of this page, click on the Archives tab, select an issue you want to read, and bring up one of the stories. Beneath the story is a link that says "Click Here To Read Entire Issue" and the issue will open up.
We have put a lot of work into making all 42 years of FARM SHOW available to paid subscribers. Enjoy!