LP Injection For Diesels
Farmers from all corners of the U. S. are beating a path to Acme Carburetion, Mankato, Minn., to buy do-it-yourself Red Rooster kits for injecting LP-gas into older model diesel tractors.
"It's the hottest thing going for getting more tractor power for least cost," says Don Fettes, sales manager. The basic Red Rooster kit was developed by C. F. Butterworth, founder of the company and internationally-known expert on LP-gas carburetion.
Key advantages cited for injecting LP-gas into diesels, according to Fettes, include: 20 to 25% more power, 15 to 20% less fuel consumption, less engine maintenance, and 2 to 10 times longer engine life.
Here's how Fettes explains the power-boosting effect of LP-gas injection: "Carbon and oil dilution are the greatest problems with diesel engines. A diesel has no throttle butterfly and a full charge of air goes in for each stroke of the piston. It's what is called an excess air burning unit, seldom utilizing more than 75% of the air inducted. In order to get more power, many have opened up the pump but this causes problems with carbon, smoke and oil dilution. By injecting a little LP-gas into the air stream, in carefully calibrated amounts, it utilizes this excess air and burns what would otherwise be unburned diesel fuel. This is why so many farmers using injection report that, even with the extra power, they use fewer gallons of the combined fuels than when operating on straight diesel."
Cost for the kit, with complete do-it-yourself instructions, is $137.50, purchased direct from the factory (tank not included). "Assuming a 20% boost in horsepower, the 20 additional horses cost only about $7 each, versus the going rate of more than $100 per factory engineered horsepower," Fettes points out.
The Red Rooster kit works on either naturally aspirated or turbocharged diesels. No change or adjustment is needed if the engine is in good condition, and is not being over fueled or doesn't smoke excessively, says Fettes.
He notes that although Acme's Red Rooster kit is designed so the microswitch cuts LP-gas in at any desired RPM, say at 213 load, many farmers set it so LP-gas injects at much lighter loads, such as for blowing snow, haying or cultivating.
How does LP gas injection compare with turbo charging?
"The cost of LP-injection, including the fuel tank, is less than half the cost of a turbocharger," Fettes answers. "And injection is easier on the engine because LP gives an explosion or power push more like steam. When you inject LP into the air stream, a diesel purrs like a kitten."
Here's how users size up the power-booster:
Dave Hagstrom, Kimball, Neb.: "On my 1500 Massey with a V-8 Caterpillar engine, I use the Red Rooster only part time. I put the tractor in a gear that will just pull the chisel plow or disk in easy going. Then, when I hit a tough spot or hill and the engine pulls down to 2,500 RPM, I flip the switch. It picks up 300 RPM faster than by lifting the implement slightly with the hydraulic control. I call the injector my 'poor boy' shift transmission."
Bob Dasher, Buffalo Lake, Minn.: "On straight diesel, our IHC 800 did 98 hp. Opened up the LP injector and it walked up to 128 but we set it back to 115 hp and sealed it. Pyrometer showed a drop of over 300 degrees on exhaust temperature."
Norman Kracke, Big Springs, Neb.: My main interest in installing LP injection on my 1070 Case was to keep the engine clean and responsive. I adjusted the Red Rooster for a 10% hp increase. When I pull the dip stick after 60 hours operation, the oil is clean. It's a good investment."
Steve Mellot, Bourbon, Ind.: Wouldn't go to the field without it. Our John Deere was putting out 65 hp and, with the Red Rooster, we set it up to 80 and hooked six 16 in. plows behind it."
Acme Carburetion also offers an optional dash-mounted Pyrometer to show exhaust temperature. It lists for $94.55. Although not required, it's beneficial in adjusting the load in the field, or where a dynamometer isn't available, says Fettes.
For more details, contact: FARM SHOW Followup, Acme Carburetion, Box 2168, Mankato, Minn.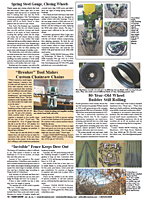 Click here to download page story appeared in.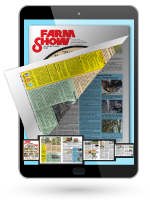 Click here to read entire issue
To read the rest of this story, download this issue below or click
here
to register with your account number.