Kitchen Grain Mill, Flaker
Wendy Wellnitz, La Crescent, Minn.: "We love working with whole grains, baking with them and eating them. Our electric KoMo grain mill makes it easy to eat freshly ground grains year-round.
    "We think freshly milled, whole-grain flour makes baked goods that taste better and are better for us than commercial flour. Unlike packaged flour, freshly milled flour has all the germ and bran. That means we get all the vitamins and minerals of the grain, not just the fraction found in commercial flours.
    "Our KoMo grain mill is the medium, one of three models. It mills about 3 1/2 oz. of grain per min. The hopper holds about 30 oz. Composite millstones grind the grain. It's a compact milling unit inside a wood housing with a footprint a little larger than 6 by 6 in. It stands about 13-in. tall.
    "We've been using the mill for more than nine years, and it's ground a lot of flour from many different grains. At $420, it was a big investment, but it's more than paid for itself in great breads, muffins and more. The oat crust pizza we make with freshly milled whole wheat and oats can't be beat.
    "Our hand-powered FlicFloc 'flaker' from KoMo is another best buy. The laminated wood base looks good and clamps to a kitchen counter. Oats trickle down into the tapered rollers that flake the oats and drop them into a bowl below. The hopper holds close to 6 oz., but we usually roll out half that or less, just enough for a bowl or two of oatmeal. It's a little more than 7-in. tall and has a footprint of just under 5 by 5 in.
    "My husband and I have oatmeal four or five times a week. It only takes a couple of mins. to roll enough oat groats for a bowl, and the time is well spent.
    "Commercial rolled oats have been steamed, rolled and then toasted. We think freshly rolled oats taste better and cook up with more texture.
    "At $170, the roller, like the grain mill, was a long-term investment. Like the mill, it's paid off. It can be used on other grains (not corn), oilseeds and herbs, but we use it mainly for oats. We may use commercial rolled oats for baking, but it's freshly rolled for breakfast."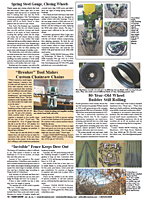 Click here to download page story appeared in.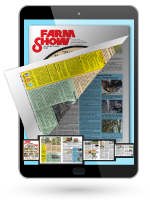 Click here to read entire issue
To read the rest of this story, download this issue below or click
here
to register with your account number.