Build Yourself A Hot Walker
In this time of rising prices and limited incomes, keeping and affording horses is no laughing matter. Since I always seem to have more expenses than I do money, I try to make as many necessities as I can, everything from my show clothing to saddle pads, hay nets and oat scoops.
One thing I felt I needed, but could neither make myself nor afford to buy, was a hot walker. Luckily for me, my enterprising husband is also an experienced welder, so when he decided to build me a walker, I was ecstatic.
Our walker cost us about $200 to build. This is less the cost of the motor, car transmission, and car differential, since we already had them. A half-horse, two-speed, 1140-1725 RPM motor should cost around $70 new, or less if you can find a used one. Some people like to use a three-quarter horsepower motor, which would cost a little more, but we have found that our half-horse does the job with no problem. It will save quite a bit of money if you already have, or know someone who has, an old car equipped with a three-speed transmission and differential. Old transmissions and rear ends (differentials) usually go quite cheap at local farm sales. If you can't find one and must go to an auto salvage yard, it will add about $200 to your total cost, but even so, you will still come out dollars ahead when you consider the price of a factory-built walker.
The make of car transmission and rear end you use doesn't matter. We used a 1959 Chevy rear end and a 1949 Chevy car transmission to build the walker in the photographs.
A gear box can be used in place of the car transmission. If you can't find a free or inexpensive car transmission and have to purchase one, you might want to buy a gear box instead. A new gear box should be cheaper to buy than a transmission at an auto salvage yard. The gear box you use should have a 35 to 1 gear reduction; then you won't need the large sprocket on the third member or the large pulley on the input shaft of the gear box.
The walker should be assembled and welded together on a flat, level floor. A concrete shop floor would be ideal, resulting in a stable, level walker.
Remove the third member from the differential. The third member is the unit in the differential containing the gears that make the differential operate. If you just stop one axle from turning, the speed of the one still spinning will double, and therefore not turn the walker slow enough to walk a horse.
To reduce the speed, the lower axle must be pulled completely out and the small pinion gears must be welded solid to the axle-bevel gear so they won't turn. This results in twice the reduction and the walker will turn slow enough to walk horses.
Seal off the bottom end of the differential housing and replace the third member. Then place the top axle back into the axle gear. A half-moon key in the end of the axle will lock a Chevy differential in place. With a Ford differential the press bearing at the hub will have to be bolted down. Then fill the differential up to the oil level with 90-weight gear lube.
My walker makes a circle with a 32-foot diameter, and has an 11-foot base to balance that circle. If the base is too short or too small, the walker will not be stable and could be easily tipped over. The base is made from two 11-foot pieces of 4-inch channel iron.
Since electrocution is always a possibility when using a walker, you should have a qualified electrician wire and install your walker. Using rope or nylon leads instead of chain leads is also important to protect against electrocution.
Because the walker arms and the five-foot piece of tubing which supports the arms are all removable, the walker can be partially disassembled for relocating or storage. With the arms and top removed, the bottom of the walker (photo 2) can easily be hauled on a flat-bed truck.
Although we have never walked any animal besides horses on our walker, our pony mare has no trouble keeping up if we put a longer lead on her so she can walk slightly to the inside of the main circle. This way her short legs can keep up without forcing her to walk uncomfortabl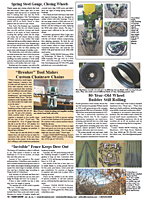 Click here to download page story appeared in.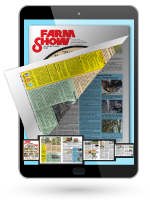 Click here to read entire issue
To read the rest of this story, download this issue below or click
here
to register with your account number.