Slick Way to Weed Corn & Soybeans
"We've tested it on our own farms for three years. We know it works,"says Minnesota farmer Darwin Reyne, of Rushmore, who with his son James has developed a "Weed Attack" system for wiping out weeds in corn and soybeans ¨ including volunteeer corn ¨ as you cultivate.
"The beauty of this system is that it eliminates the need for having to go through fields on foot, or with spray buggies, to clean up weeds the cultivator missed. When you're done cultivating, you're done with the field as far as weed control is concerned," says Darwin.
The Reynes, prompted by excellent results on their own and neighboring farms, have "tooled up" to make their "Weed Attack" system commercially available to corn and soybean farmers.
It consists of a Reyne-designed weed "wiper" attachment that mounts on rear or front-mounted row crop cultivators, one over each row. The "wipers" (16 in. wide and 24 in. long) adjust up, down and side-ways to ride precisely over the row, and just high enough above the crop to "wipe" tall weeds without touching the crop itself.
The Reyne "wiper" uses a small (5/8 in. dia.) single strand rope to wipe weeds "without the overkill and chemical waste you get with larger conventional wipers," notes Darwin.
The "secret" to the "wipers" efficiency is the special device the Reynes use to inject spray into each end of the rope. To recharge the wipers with herbicide, the tractor operator pushes a switch to activate a small, 12 volt pump. It moves herbicide from a 5 gal. plastic pail, through plastic (? in. dia.) pipe, and to each "wiper" rope. All wipers get recharged with the same amount of material when the switch is pushed.
"Normally, the operator has to push this switch about once every two or three rounds," explains Darwin. "He controls the amount by holding the switch for as long as it takes to saturate the ropes without dripping."
The Reynes use a mixture of 1 gal. of Roundup and 2 gals. of water to "wipe" tall-growing weeds in both corn and soybeans. "Under average conditions, this 3 gal. mixture will cover approximately 300 acres.
That's about 3 to 4 times more coverage than you get with a gallon of Roundup with conventional wipers which slop on more material than is needed to do the job," Darwin points out.
The Reynes are selling their new cultivator-mounted "wiper" for $27.50 per row, including mounting bracket, metering device, fittings and plastic tubing with mounting harnesses. Not included are other required items which can be purchased locally ¨ electric components, battery-powered pump and small (3 to 5 gal.) tank. Or, the Reynes will supply complete systems ¨ including wipers, brackets, pump and other required items ¨ for $210 for a 4-row cultivator, $320 for an 8 row and $430 for 12 rows. "All we need to know is the make and model of your front or rear mounted cultivator," says Darwin.
In addition to the special "wipers," the Reyne's "Weed attack" system also includes row-directed spraying and timely cultivation. They band at planting with Lasso to control grassy weeds in both corn and soybeans. To nail in-the-row broadleafs, they equip their cultivator with individual row nozzles¨one between each row using 150? tips.
"We're selling ready-made equipment to rig cultivators with our Šwiper' but we're not selling equipment for spraying. It's a relatively simple do-it-yourself hookup, using readily available nozzles, mounting brackets, plastic pipe and a battery operated pump ¨ the kind used on bean buggies," says Darwin.
"We cultivate corn and beans twice and use the wiping and spraying attachments for both trips with our 8 row cultivator. The operator hits the Šspray' switch only when he spots a low-growing broadleaf weed in the row. This activates all nozzles so there's some waste, but not as much as there would be if we continuous sprayed with all nozzles. We figure it would take 1 qt. per acre to continuous band spray. By spot spraying, we cover 20 acres with just one quart and end up with very few escapes," Darwin explains. "Even when traveling fast at normal speed on the second cultivation, it's not har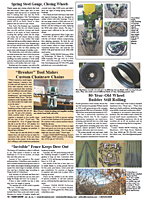 Click here to download page story appeared in.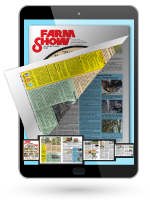 Click here to read entire issue
To read the rest of this story, download this issue below or click
here
to register with your account number.