43-Year-Old Chainsaw Still Runs Like New
"I bought my first house more than 42 years ago and along with it came a special gift from my dad," says contributing editor Lorn Manthey. "He handed me his 2-year-old Jonsered chainsaw and said 'You got trees and firewood to cut. This should do the job'.
"Hundreds of times since that day in 1973 I've thanked my dad for that Jonsered 49SP. With its high-compression engine, 18-in. bar, and shock-resistant handlbars, 'Ol Red' has been the most trusted piece of equipment I've ever owned. Even though I've dropped it to the ground from 35 ft. and sawed into nails and frozen ground, it has never stopped working."
Manthey has owned 2 other brands of chainsaws over the years, but neither one has performed as well as the Jonsered. "One of them was from a U.S. company," says Manthey, "but I'm sure it was made outside the U.S. Another one blew its engine twice and had an oiler that refused to work, even when the machine was new."
The Swedish-built Jonsered still performs like it did the day he got it. "The 49SP has always started easy and runs without a sputter. It idles quietly regardless how hard it works and has never overheated."
Manthey has talked to people who know a lot about chainsaws and they've told him the 49SP Jonsered is one of the most dependable saws ever built. "The body is all metal, so it can handle hard knocks without cracking the housing," says Manthey. "When it fell 35 ft. from an elm tree I was cutting, it kept on idling, upside down, on frozen ground. The only damage was a slightly bent top handle, which is still bent 20 years later," Manthey says.
The machine has been to the repair shop a few times, but only for routine maintenance. The ignition coil was replaced 5 years ago and a new bar stud was installed to replace one that had stripped threads. Manthey has also replaced two bars and several chains, but the starter pulley, recoil and starter rope are still original. The carburetor, air intake, bar plates and muffler are also original.
"I've taken good care of it over the years," says Manthey. "I keep it clean and stored in a dry place when it isn't working. My dad made a smart buy when he bought this saw for about $150 in the early 1970's. I checked out prices for used models on eBay last April and saw a model just like this going for $300. Where else can you double your money on something that you've used hundreds of hours over the years?"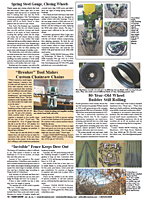 Click here to download page story appeared in.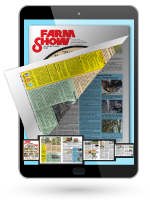 Click here to read entire issue
To read the rest of this story, download this issue below or click
here
to register with your account number.