Mini Combine Finds A Market
"The BOAZ mini combine has its faults, but it works for small grain plots. It's imported by EQ Machinery, Medford, Mass. A friend and I have been growing small grains for bread, cereal and livestock, but harvesting is a problem. The BOAZ, with its small size and adjustable height cutter bars, is simple and straightforward with good quality components. It can be used to cut and thresh the grain or as a stationary thresher," says Benjamin Hoffman, Bradford, Maine.
"One problem is that there's no good English language manual available. After a few hours of use, we removed all the guards and covers from the machine, cleaned it thoroughly, and lubricated it. Many grease fittings were loose, and some were missing. Several bolts were loose, and one was missing, while one had no nut. One pulley had a hole for a zerk, but no clearance and had to be replaced.
"The BOAZ is a 3-wheel, 11-ft. long machine with a 13 hp gas engine and weighs 948 lbs. The cutting width is just under 2 2/3 ft. and it will harvest about 1/4 acre per hour.
"The lower cutter bar cuts at 4 to 6 in., while the second bar can be raised as high as 42 in. for cutting grain heads. Even at the highest level, cutting tall rye was a problem with the reel pushing stems away. It also collected a lot of chaff with the grain. Adjusting airflow to the thresher for size and weight of grains helped as did adjusting the chaff separator. The latter can be difficult. We hang a cardboard box under the outlet and play with adjustment until grain stops coming out. The BOAZ works better with oats and wheat.
"The manufacturer recommends harvesting at full throttle, but we found 1/4 throttle worked best.
"Low costs means minimal operator comforts. Backing up with the 3-wheel design can be a problem as you steer with your feet, using independent hand clutches for the front drive wheels.
"Problems we identified with the design included a fast 3rd speed forward, awkward throttle control requiring the operator to lean forward alongside the engine, and an emergency shut down that is bad for the engine. A minor problem is the exhaust being close to the operator's knee, requiring an extension.
"The LIFAN engine on it is superb. It has an electric start, but started on the first pull after winter storage.
"With its $5,000 price (now up to $7,500), operating costs, depreciation and taxes, we estimate a cost per acre for harvesting of about $27. That's based on the estimated life of 20 years and approximately 12 days per year combining small grains and 4 days as a stationary thresher of corn and beans.
"While not totally satisfied with our initial use, we remain optimistic. The alternative is going back to scythes or sickles."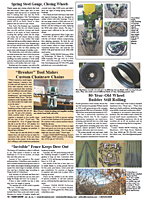 Click here to download page story appeared in.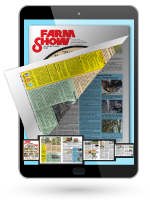 Click here to read entire issue
To read the rest of this story, download this issue below or click
here
to register with your account number.