Home-Built Chop Saw "Made To Last"
"I couldn't find a metal cutting abrasive chop saw with an electric motor that wouldn't burn up within 12 months, so I built my own using a motor with a thermal switch to prevent overheating. It's built to last," says John Betka, Walkerville, Mont.
    He used salvaged parts from a pair of Milwaukee chop saws, including the handle, blade guard, switch, and tilt pivot pin and spring. The rest of the chop saw was made from scrap steel remnants that he already had. The unit is chain-driven using two 2-in. dia. sprockets and a no. 40 chain.
    "I built it last fall and so far it has cut anything I put under it without any strain on the motor at all," says Betka.
     The chop saw is operated by a 1 1/2 hp Marathon electric motor equipped with a thermal protection switch to prevent overheating. He bought the motor from Surplus Center in Lincoln, Neb. (www.surpluscenter.com; ph 800 488-3407). It was designed to run on 240-volt AC and run at 3,450 rpm's, which would have made the blade go too fast. So he installed a large sprocket on the motor and a smaller sprocket on the blade's driveshaft, which slowed the motor down to 1,800 rpm's.
    The 1 1/2 hp motor was designed to operate on either 110 or 240-volt AC but didn't have enough torque to turn the blade adequately, so he replaced the capacitor with a larger one made for a 240-volt motor. He also replaced the capacitor's cover. "I couldn't find a cover that was the right size so I made one out of a 1 3/4-in. piece of schedule 40 pvc pipe and screwed it onto the motor," says Betka. "One side of the cover comes off so if I need to I can easily replace the capacitor."    
    He wasn't happy with the performance of the original abrasive blade on the Milwaukee chop saw, or with any other abrasive blades that he had tried before because they wore out too fast. Then he discovered Flexovit abrasive blades (Eagle Safety Products, Union, Mo. www.eaglesafetyproducts.com; ph 636 583-4428).
    "I first tested out a used 24-in. dia. Flexovit blade that I got from a local steel supplier. The blade was worn down too much for them to use anymore, but it worked great for me and lasted a long time. So I ordered 14-in. dia. replacement blades from the company. The blades are 1/4 in. thick and are made with some kind of compressed grit with a bonding agent. I've found they last much longer than anything else on the market."
    He made one more improvement to his home-built saw. The Milwaukee chop saw's deck originally measured only 10 by 14 in., which he found too small, so he installed a 24-in. sq., 1/4-in. thick steel plate on top of it to provide more room when cutting material.
    "It's ugly, but it works great," says Betka. "I spent about $135 for the motor and blade, whereas comparable new chop saws sell for $200 and up. Also, all the parts on my chop saw are standard parts that I can buy at any farm and ranch store. With Milwaukee chop saws you can't buy a replacement motor, armature or field separately, and a lot of their other replacement parts are discontinued after 2 years."
     Betka says he's had a lot of problems with all the current brands of chop saws, including the Milwaukee. "I don't know if the manufacturers have lowered their specifications, or if it's just a matter of poor quality materials. But I've had the motors burn out within 12 months on 2 handheld grinders, 2 chop saws, and 3 drills. It doesn't seem to matter if I upgrade to a company's heavy duty models or not."    
    Contact: FARM SHOW Followup, John Betka, 5889 Moulton Reservoir Road, Walkerville, Mont. 59701 (ph 406 490-2980; jcb@crbart.com).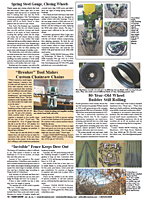 Click here to download page story appeared in.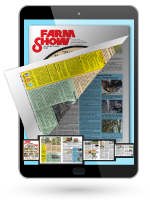 Click here to read entire issue
To read the rest of this story, download this issue below or click
here
to register with your account number.