New Waffle-Crete Catching On Fast
"In just 3 years time since we have been working with Waffle-Crete, it has developed to the point where now it is 85% of our business, and in another year it could be 100%."
That's the way Bob Huttes, partner in Huttes Brothers Construction, Moweaqua, Ill., sums up their experience with a new prefabricated aggregate concrete that is poured in 8 ft. by 12 ft. panels at their plant in Moweaqua, then delivered and erected on location for both farm and nonfarming uses.
Being more than 50% lighter in weight than conventional 8-in. concrete walls makes all the difference. An 8 x 12 ft. panel weighs about 3,300 lbs.
Bob Huttes, who is in business with his two brothers, John and Jerry, is amazed at this turn in events for them. "Usually, you hear these stories of some new product coming on like wildfire, but it's always happening to somebody else. It looks like this time we've got the product. It's never happened before," Bob told FARM SHOW.
The Huttes Brothers are both resourceful and aggressive. While Waffle-Crete is new, they, in turn, have done spade work in establishing new and unusual uses for it.
Waffle-Crete has been used in several geothermal (earth sheltered) buildings by the Huttes Brothers.
"Our first geothermal building was for a hog finishing operation. The precast Waffle-Crete walls can take the pressure of the earth, so the owner decided to throw a berm of earth against all four sides," Bob says.
"It's so new we haven't had any chance to get any experience information, but you know it has to help since the earth maintains a temperature of about 56?. That is going to help both in heating and cooling," Bob points out.
Where do you get the earth to fill around the sides when you build on flat ground? This farmer used the dirt he excavated for a manure lagoon.
A second avant-garde building going up, also constructed by the .Huttes Brothers, is a completely underground home being built by a dry wall contractor Keith Pinkerton. It's located in a scenic area just west of Moweaqua, Ill.
The Pinkerton home is earth sheltered on three sides and is covered with 21/z feet of earth.
Cave-type homes really have caught on in the past few years. Most are of poured concrete. This applies to the roof as well as the sidewalls. Pouring such roofs requires tremendous interior support. By contrast, Waffle-Crete roofs are poured in the same size panels, and are the same in every way except that the panels have been thickened by 2 in.
The result of Waffle-Crete technology has been the reduction of on-site labor costs. Once footings are in, the building goes up in a hurry. For a home, it is just a matter of hours.
Waffle-Crete was developed by Dave Van Doren, Van Doren Industries, Hays, Kan. The Huttes Brothers are the authorized distributor for a 40-mile radius ranging outward from Moweaqua. It is a territory that is heavily agricultural but which also includes the city of Decatur, well known as the soybean capital of the U.S.
Since taking on Waffle-Crete, the Huttes Brothers have used it for basements of houses, foundations, hog buildings, feeder floor platforms, manure pits, commercial buildings, homes, offices, and lodge buildings. The latest use of the building material is for the Christian County Agricultural Extension Service.
Here are some of the features of Waffle-Crete as related to poured concrete: An 8 by 12 ft. solid panel of normal concrete would weigh 9,600 lbs. A Waffle-Crete panel of this size, made of lightweight concrete, weighs just 3,300 lbs. At the same time, it is engineered to have the same strength. (In some areas, conventional concrete, not lightweight concrete, is used in Waffle-Crete panels.)
Waffle-Crete is available from 38 authorized producers in 22 states and 3 Canadian provinces, according to Dwight Nelson, sales services manager, Van Doren Industries. They also have one producer in Venezuela.
Nelson says the set-in-place cost on someone else's footing runs from $3.00 to $3.50 per square foot of panel space. (An 8 ft. by 12 ft. panel would be 96 square ft.) Costs will vary somewhat with distances traveled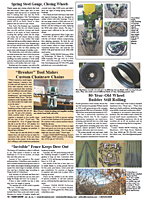 Click here to download page story appeared in.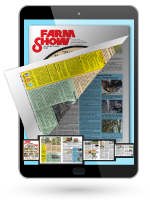 Click here to read entire issue
To read the rest of this story, download this issue below or click
here
to register with your account number.