Big Bale Burner Pays For Itself Fast
An article in FARM SHOW several years ago gave Doug and Bruce Youngblood the idea to build their bale-burning hot water furnace to cut heating bills.
"We built one stove and then another, and the second one worked even better," says Bruce Youngblood. "Then we built one for a neighbor, and others wanted them, too."
The Youngbloods worked with a neighbor who drew up blueprints. Topeka Metal Specialties, Topeka, Kan., produces components, and the family builds stoves to order. So far they have 9 stoves in place and lots of interest from other chicken and turkey growers.
"We'll burn four bales of dry fescue at $15 each or two bundles of slab wood for $30 per day," says Bruce Youngblood. "Either way, we replace about $300 worth of propane. A four-house farm will use $40,000 to $50,000 of fuel a year, but our stove can drop that to $12,000 to $15,000."
Youngblood recommends one stove for a set of four 500-ft. by 40-ft. poultry houses. He says their 10-ft. tall, 8-ft. wide and 12-ft. long stoves sell for $57,000 with radiators selling for $425 each. Each radiator is attached to the front of an existing fan. A full system, including radiators, pipes, stove, cement pad and pumps, will cost a grower from $85,000 to $90,000. A smaller stove sells for $37,000.
"We supply all the parts and directions for installation, and most farmers do it themselves," says Youngblood. "We sold one to a big welding shop that has hot water heat in their floor. We don't recommend them for homes as they are too big to be economical, but they would be ideal for grain drying or greenhouses."
The big stoves weigh in at 17,500 lbs. Bale chambers are 1/2 in. thick, 7 ft. round and 10 ft. deep. Chambers are surrounded by a 7,000-gal. water jacket that heats to 160 to 165 degrees F.
"The smaller stoves also handle big round bales, but the water jacket holds only 2,000 gal.," says Youngblood.
All the electrical controls are hard-wired with no computers or software involved. Each stove has an aquastat to control the rate of burn and a timer for shutdown control.
Water is constantly pumped through the door to keep it cool. Forced air fans in the door and the opposite end of the chamber encourage a clean, complete burn.
As a new bale or bundle is pushed in, the ashes are pushed out of an ash chute at the rear of the chamber. Water is pumped out of 2-in. lines by a 120 gpm, 3 hp pump. The pump maintains 20 to 30 lbs. of pressure in the lines to the poultry houses, where lines drop down to 1-in. dia. to feed radiators. Cooled water is then cycled back to the stove for reheating.
The Youngbloods designed their radiators for use in high dust environments. With only 7 fins per inch, there is room for dust to push through and not plug the fins.
"We sell stoves direct, but also have a dealer in Mississippi and are looking for dealers in other parts of the country, too," says Bruce.
Contact: FARM SHOW Followup, B & D Heating Systems, LLC, 2819 Panda Rd., Diamond, Mo. 64840 (ph 417 540 5358-Bruce; 417 325-6270-Doug; bdheating_agriflame@live.com; www.agriflame.com).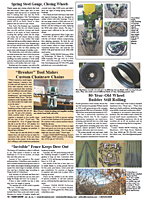 Click here to download page story appeared in.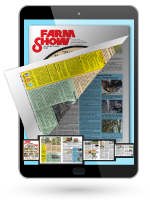 Click here to read entire issue
To read the rest of this story, download this issue below or click
here
to register with your account number.