"Town And Everything In It" Sold At 3-Day Auction
When Balster's Implement and Parts, a 137-year-old business in Scotch Grove, Iowa, sold out this past September it drew national and worldwide attention. The reason? Nearly the entire inventory, stored in 14 buildings that comprised the whole town, was 70 to 120 years old. And much of it was in mint-like condition or in original packaging.
"This was a once-in-a-lifetime auction, a fair-like event that attracted buyers who arrived by horse and buggy and corporate jets," says Judd Grafe, president of Grafe Auction Company, the auction manager. "We had buyers from just about every state and several foreign countries."
More than 2,000 buyers were on the grounds and another 2,200 were online to bid on items sold in 4 rings that operated for 3 days. Some of the most rare items people had never heard of, such as the Never-Fail 5-gal. kerosene can (patented May 9, 1893 by the JH Hayes Mfg. Co. of Greenfield, Ohio). The 4-color original label didn't have a scratch on it.
Another rarity: the Martinware fuel can, made in 1905 by the General Metalware Co. of Minneapolis and Portland. It too had the original label.
Collectors also drooled over a 1-gal. can of French Auto Oil, made by the Marshall Oil Company. The can held the original contents, had a screw-on oil spout and original labels. It sold on the internet for $1,800.
Hundreds of catalogs and manuals were sold, including an original instruction catalog for the Stationary low cut attachment (#XMB52) for a Moline Milwaukee regular Corn Binder. It included a parts list with illustrations. The family also sold several antique tractors and a mint-condition 1942 Packard.
Balster's Implement and Parts started in the 1870's and grew to include groceries, hardware, a gas station, implement sales, a lumberyard, a blacksmith shop, a mercantile and a tire shop. "The business became the town, and the town never grew beyond the business," Grafe says. "The amazing part of this family venture was that they never threw anything away." When 88-year-old Les Balster passed away in 2009, his family decided to sell the business because there was nobody to run it.
Grafe organized a staff of more than 50 people to catalog the contents and promote the sale. "We had 20 semi trailers full and hadn't started with things in shelves, bins or pallets," Grafe says. The auction sold thousands of parts for old mowers, swathers, binders, blowers and wagons. There were hundreds of mower sickles and cultivator shovels, pallets of bearings and belts, boxes of unopened spark plugs, racks of hay slings, spools of ropes and rolls of corn planter check wire.
People came to buy the ball bearings, belts and binder parts, the canvases, umbrellas and combine parts, boxes and pallets of chains, pulleys and tools, spare parts for long-gone brands such as Avery, Hume, Minneapolis-Moline, Wood Bros., Advance Rumely, Deering and Electric Wagon.
"The sale was almost like a fair, a real celebration," Grafe says. "That was the family's wish, and that's what we worked toward." His company promoted it to collectors, to farmers, and to the Amish and Mennonite communities. During the event, they had a live radio broadcast hosted by a retired 85-year-old announcer who had done a weekly remote program from Balster's many years ago. A vendor sold malts for 9 cents.
"We think there were 5,000 to 6,000 people in attendance during the three days," Grafe says. Cars were parked in fields up to six miles away.
Amish and Mennonite farmers from ten states were there to buy parts, tools and equipment that may never be for sale again. Brand new parts made in the 1800's and still in their boxes were coveted by farmers who still need them and collectors who want to keep them. Parts for hay rakes, binders, cultivators and grain cleaners were especially valuable.
Grafe says, "When we cataloged for the sale we were amazed that the buildings were dry, there was no mold, water or heat damage. Yes, there was plenty of dust, and we sold that too. We had 4 rings set up for three days. Each ring sold 1,000 to 1,500 items a day. There were more than 20,000 lots."
All 4 rings sold for 10 to 11 hours a day. "We'd finish at 7 p.m. one day and work all night to stage for the next day's auctions," Grafe says. "Basically it was a 4-ring circus. Everyone was busy, everyone had fun and the family was very pleased with the results. It's the most labor intense sale we've ever done."
Everyone involved considered the event a real success. "When we first met with the family, they had a purchase price in mind for the merchandise and the buildings. After the sale was complete and everything was tallied up, they received three times what they had expected," Grafe says.
Contact: FARM SHOW Followup, Judd Grafe, Grafe Auction Company, 1025 Industrial Dr., Spring Valley, Minn. 55975 (800 328-5920; info@grafeauction.com; www.grafeauction.com).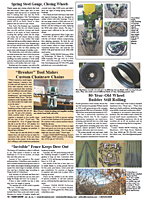 Click here to download page story appeared in.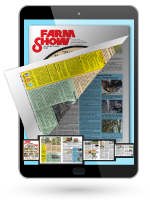 Click here to read entire issue
To read the rest of this story, download this issue below or click
here
to register with your account number.