Austrian Scythes Cut Fast And Easy
Botan Anderson specializes in Austrian-style scythes, which are lighter and faster cutting than traditional American-style scythes. He also teaches people how to use and sharpen them properly.
"American-style scythes have thicker, heavier, and harder steel blades that hold their edge longer than Austrian-style scythes, but never get as sharp in the first place," says Anderson. "Austrian scythes have softer edges that are cold hammered to a really thin, sharp edge. They are lighter and cut faster and easier."
While both styles have a standard crescent- shaped blade, the Austrian-style blade also curves end-to-end and side-to-side. The rocker curve runs lengthwise on the blade, curving the tip up from the ground when the scythe lays flat to the ground. The belly, a side-to-side curve, lifts the cutting edge off the ground. These three curves make the blade stronger and allow it to slide across the ground with the edge and tip rising against the stalks being cut.
The snaths, or handles, are also different on the two styles. The straight Austrian style allows a fuller cut.
Anderson says the Austrian scythes are ideal tools for small farmers or people who keep only a couple of cows or horses. Hay can be cut, dried and stored with minimum effort and expense, especially if using his scythes and a special cutting technique.
"Peter Vido of New Brunswick developed the cutting technique for use with the Austrian scythe," says Anderson. "Using it, a person can cut a swath one and a half times their height. I'm 6 ft., 5 in. and can cut a 10-ft. swath."
Anderson says such a long swath has been done with American scythes, but only in short competitive bursts. He can do it continuously, thanks to the smooth side-to-side weight shift. Watch the video on his web page, and each stroke is as smooth as the next.
As important as the swinging technique is, the sharpening technique is even more vital. On the soft, Austrian-style scythe steel, it involves "peening" the scythe edge. Rather than grind the steel, the edge is hammered with repeated light blows along the edge of the scythe. Peening anvils allow sharpening anywhere there is a stump or other surface to support them. Once fully peened, or hammered, a special whetstone does the final honing.
Anderson suggests a 20-min. touchup peening of a blade after every couple hours or as it starts to dull. "If you let the edge get too dull, it can take 45 min. to sharpen properly," he says. "Mowing with a sharp blade is so much easier that you will mow more even with time out to sharpen than you will continuing to mow with a dull blade."
Anderson holds workshops at his Wisconsin farm where he teaches cutting techniques as well as peening and honing. Scythes and related tools are listed on his website. Packages of scythe, snath, whetstone and whetstone holder are priced from $230 to $250. Peening anvils range from $35 to $90, depending on size and style.
Contact: FARM SHOW Followup, Mystic Prairie Eco-Farm & Scythe Shop, 1900 Johnson St., Wilson, Wis. 54027 (ph 715 772-4642; mysticprairie@mysticprairie.net; www.onescytherevolution.com).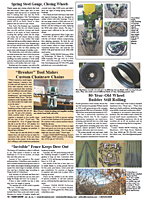 Click here to download page story appeared in.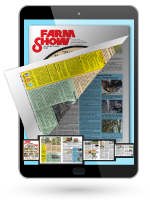 Click here to read entire issue
To read the rest of this story, download this issue below or click
here
to register with your account number.