Self-Propelled Disk FIrst Of Its Kind
Engineers from major full-line farm equipment manufacturers have been slipping away quietly for the last six months to Kermit Dehaai's farm in Souterhn Iowa to take a peek at a revolutionary new piece of farm equipment- a huge, self-propelled offset disc that "walks" itself through fields, propelled by its own powered 31-in. dia. discs.
The revolutionary disc is designed to practically eliminate field compaction, particularly in heavy, gumbo soils. "It's a 4-wheel drive disc with engine, cab and controls mounted right on the frame," explains Dehaai, whose farm and manufacturing plant are located near Monroe, Iowa. "Wheels carry the machine in transport. In the field, they float, acting as gauge wheels."
Shafts through each set of disc gangs are power driven by one of four variable speed gear boxes. Pitch of the discs, which is adjusted hydraulically, controls the depth at which the discs operate. "By changing pitch of the discs, you decide how deep to work the soil. Normal operating depth is around 6 in. but you can go much deeper," Dehaai told FARM SHOW.
The prototype self-propelled disc is 30 ft. wide and can pull a 12-row crop planter (or two 6-row planters) behind, or up to 30 ft. of grain drill width, making it a one-pass till-plant machine. Discs turn at about 70 rpm's. Wheels can be engaged at any time should the machine hit a soft spot or other difficulty. The front wheels are hydraulically-powered; rear wheels are driven mechanically off the variable speed drive.
"I didn't make it all-hydraulic because hydrostatic drive is inefficient - you lose 20-30% of the power efficiency," explains Dehaai. "We're using a 6 cylinder, 200 hp. 318 cu. in. Detroit diesel engine and have all the power we need."
The disc was designed with heavy gumbo soil in mind but Dehaai expects it to be used throughout the U.S. and Canada in all types of soils as a one-pass tool for tilling and planting. -
"We're predicting you'll save up to 30% on fuel getting the crop in because you cut down on the number of field trips, and because there's less weight to pull through the field than with a conventional tractor arid disc hookup," says Dehaai. Weight of his self-propelled disc is right at 28,000 lbs. "We also predict a 10 to 20% increase in yields in heavier soils because of decreased compaction, especially in corn. And, the machine can work fields up to a week earlier in the spring because it has more traction because of the powered discs." Dehaai's prototype is outfitted-with rice paddy tread tires to give it good traction.
He says another advantage is that the disc will track straight down the field without wobbling, Is happens with pull-type models. The wheels, floating along the ground, hold the machine in line. In lighter soils, where the disc settles more, there will be more weight on tl e wheels, explains Dehaai.
Disc gangs are raised and lowered in the field by hydraulic cylinders on the big rear wheels. Individually activated cylinders are also mounted on the four wings, providing another advantage for the machine. "Because you can lift each wing separately, you can use one or the other wing to push or pull dirt away from the fence row," explains Dehaai.
He notes that the entire machine uses conventional, easily serviced parts. One of his biggest problems in putting it together was finding "in line" variable speed pulleys, since most on the market are "end line". The cab is mounted towards the rear of the unit with the engine easily accessible in front of it.
Dehaai says that, so far as he knows, his self-propelled disc is the first of its kind. "International Harvester, John Deere, Massey Ferguson and other companies have sent engineers to look at my machine. Some are skeptical end question whether the powered discs can really walk the machine down the field - no matter what pitch the discs are set at for traction."
Dehaai is extensively field testing the machine this fall, and expects to have thoroughly tested it in a wide variety of field conditions by next spring. At that time, he'll decide whether to sell manufacturing rights o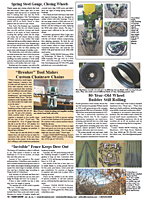 Click here to download page story appeared in.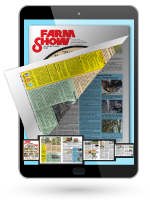 Click here to read entire issue
To read the rest of this story, download this issue below or click
here
to register with your account number.