More Hydrogen "Fuel Saver" Reports
Mike Thompson, Princeton, Minn.: He bought a hydrogen-generating fuel saver from Advanced Energy in Kansas (www.hydrofuelmax.com) and couldn't get it to work. He sent it back and received a replacement. It also didn't produce results for him, so he returned it and asked for his $595 back. Instead they sent another unit, so he's trying it again on a small diesel-powered car and also a diesel pickup.
Richard Miller, Bloomfield, Iowa: He installed an Advanced Energy unit on a Deere stationary diesel. He says it draws as much as 40 amps and gets so hot that it actually produces steam. He has tried it with various settings and amp draws, but has yet to see any benefit in fuel reduction. "I think it draws so much juice out of the battery that it makes the alternator work too hard," he notes.
Miller also tried a multiple tower unit from Robert Shrock at Imperial Diesel Machinery, Kinsman, Ohio. It only draws three to four amps. Although he could see why the fuel-saving unit should produce positive results, he reports that he has not yet seen any benefit.
Eddie Elliot, Bozeman, Montana: Elliot says his hydrogen generator from Advanced Energy is saving fuel, but not as much as he had hoped. Elliot is an over-the-road trucker and reports a 0.2-mile per gallon increase. At times he has seen as much as a 0.7 increase, which he feels would more than pay for itself if it was continuous. He drives 2,500 miles each month, facing fuel bills as high as $8,000 a month, so even the 0.2 increase will pay off after 2 to 3 months.
"I plan to keep working at it," he says, adding that, "Advanced Energy has provided good support when I've had questions. However, they didn't send a promised replacement circuit breaker and amp gauge. If I could get the full 15 percent improvement they talk about, I would become a dealer."
Ell Kramer, Fredericksburg, Texas: The 85-year-old has had consistent results with his Advanced Energy unit, seeing increases of 2 to 3 mpg and as much as 6 1/2 mpg in his Dodge diesel pickup with 4-WD. He notes that different driving conditions can make a big difference in mileage.
"I had a guy install the unit, but I wired it myself," says Kramer. "It was very easy. I'm happy with it."
Marlo Salo, New York Mills, Minn.: Salo bought a hydrogen generating fuel saver from Stan MacDonald in Ontario and he has also been using a home-built unit. He has seen no improvement in mileage from either unit.
Leon and Gideon Fisher, Myerstown, Penn.: They bought a unit from Stan MacDonald for a stationary diesel. They're still working with it, but as yet can report no improvement in fuel use.
Charles Peterson, Holiday Island, Ark.: Peterson bought a unit from Eagle Research but saw no improvement in mileage. He requested a refund and received a check.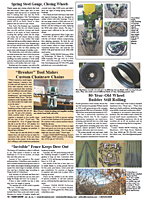 Click here to download page story appeared in.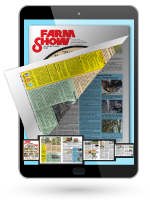 Click here to read entire issue
To read the rest of this story, download this issue below or click
here
to register with your account number.