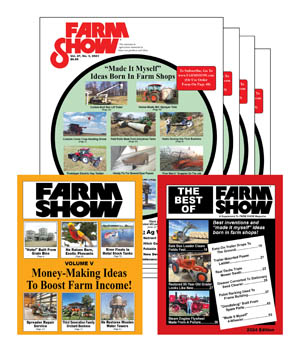 FREE CLASSIFIED ADS
Sponsored by FARM SHOW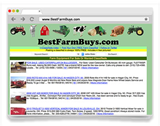 ---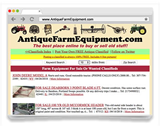 How To Build An Electric-Powered Pickup
FARM SHOW Magazine
» How To Build An Electric-Powered Pickup



How To Build An Electric-Powered Pickup

Bill Wilson is able to drive to town without burning an ounce of fuel. That's because he converted his 1983 Ford Ranger pickup to electric power.
Instead of an engine, the pickup now has six 6-volt, deep cycle batteries under the hood and 12 12-volt deep cycle batteries back in the bed. Wilson removed the pickup's engine, radiator, and exhaust system. All those components were replaced by a 10 hp DC electric motor off an old forklift. A 3-stage controller links the motor to all the batteries. The motor direct-drives a 3-speed Chevrolet transmission, which replaces the pickup's original 5-speed transmission.
Gauges installed in the cab tell Wilson how many amps are being drawn by the motor and how many volts are still left in the batteries. A 110-volt charger is used to charge the batteries.
"It's virtually maintenance-free and eliminates the need for mufflers, fuel and oil filters, fan belts, antifreeze, oil changes, spark plugs, and tune-ups," says Wilson, who made the conversion last year. "I use it all the time, mainly to get parts in town which is 10 miles away. Everyone around here is interested in it.
"I figure it costs only about one third as much to operate this electric-powered pickup as it would cost to operate a regular pickup."
The truck weighs about 1,000 lbs. more than when Wilson bought it, mainly because of the batteries. "I chose this Ford Ranger because it had a small diesel engine in it and therefore a heavier suspension.
"It'll go a bit more than 20 miles on one charge. I paid $100 for the pickup and $250 for the electric motor. I paid $20 apiece for the batteries, which I bought from a battery wholesaler. The batteries were from golf carts where all batteries had been replaced as a set. My total cost for all the components was about $1,000."
The pickup goes down the road at 40 mph. "It's not a highway machine, and I don't have a lot of torque going uphill. I plan to add a small gas engine to make it into a hybrid vehicle to boost the pulling power on uphill grades and also to charge the batteries. Since I made the conversion I don't have any heat, but using the gas engine I intend to make a heat exchanger off the exhaust."
Through different wiring strategies, he's able to connect the batteries in series and in parallel to deliver variations of 18, 36 and 48 volts to the motor. He controls the switch from one voltage level to another using the pickup's original gas pedal. As he increases pressure on the pedal, it activates different micro-switches and relays that then change the power source combination to give different voltage levels and hence different drive power. "I start out on 18 volts, then I go to 36, then to 48," says Wilson. "I pull 12 volts off one of the batteries to operate the lights, horn, and other accessories."
Some of the elements of driving the electric truck have been a learning experience. For example, with no noise except the tires on the road, you don't realize how fast you're going. "At first I found when slowing down there was too much momentum so I frequently had to use the brakes harder. At the same time, the motor doesn't provide the back pressure for slowing down like an internal combustion engine so that impacts the operation as well.
"I only use the transmission to set speed ranges, not to shift going down the road," he notes.
Contact: FARM SHOW Followup, Bill Wilson, 44 Gable Rd., Thompson Falls, Montana 59873 (ph 406 827-3006; email: billsbarn@blackfoot.net).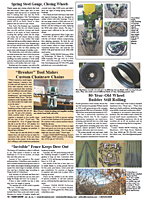 Click here to download page story appeared in.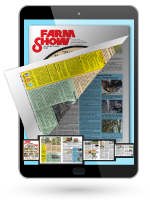 Click here to read entire issue
To read the rest of this story, download this issue below or click

here

to register with your account number.

2005 - Volume #29, Issue #4