Holsters, Handy Way To Organize Drills
Cliff Brandenburger, Beecher City, Ill.: These "holsters" are a handy way to organize drills. Just screw short lengths of large dia. pvc pipe to a board. Cut them at an upward angle so the drills stay in. Works for other tools, too.
Brandenburger also came up with a nifty way to store saw blades. He uses a lot of different circular saw blades and wanted a way to keep them in good order. He came up with a wall-mounted storage bracket with twenty swinging arms that each hold a blade. The arms hang freely from a long bolt that runs through a plywood brace at the center of the bracket. The blade hangs loosely on a peg at the middle of each arm. The arms extend down below the blade so you can grab it with your hand, swing it up, and pull the blade off. The entire blade holder takes up only about 2 sq. ft. of wall space.
Another idea that works well for Brandenberger is a vertical plywood cutting table. It gives him fast and accurate cuts every time. The power saw slides up and down inside an angle iron track. It's held by a cable that runs up over a pulley at the top. A weight on the cable is slightly heavier than the saw so it moves easily up and down. A bit of down pressure is all that's needed.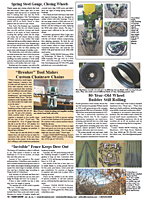 Click here to download page story appeared in.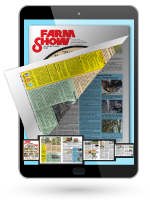 Click here to read entire issue
To read the rest of this story, download this issue below or click
here
to register with your account number.