Pyramid Corn Crib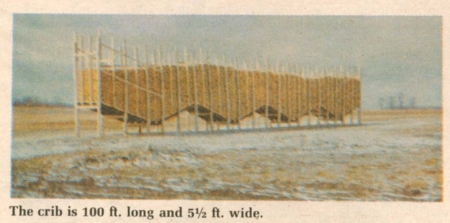 When Bert Knott decided to go back to ear corn after paying to have his grain dried for some 20 years, he wanted a storage crib that would minimize the labor involved and make handling easy. His "pyramid" style crib does just that.
"Everything is downhill in this crib," says Knott. "You can put an elevator under each of the lowest points and unload the entire crib with nothing more than a garden rake."
The 100-ft. long bin is 5 1/2 ft. wide mounted on 20-ft. long, 10-in. dia. poles anchored 3 1/2 ft. in the ground.
Knott says the crib will hold about 1,500 bu. of ear corn. There are no divider walls between sections of the bin and Knott, along with his son Tony, simply unloads one section at a time. This is the second year they have used the bin. Corn they unloaded last spring at 13.5% had been loaded into the crib at near 30% moisture last fall. There were no spoilage or other quality problems, says Bert.