Retractable Tractor Rollbar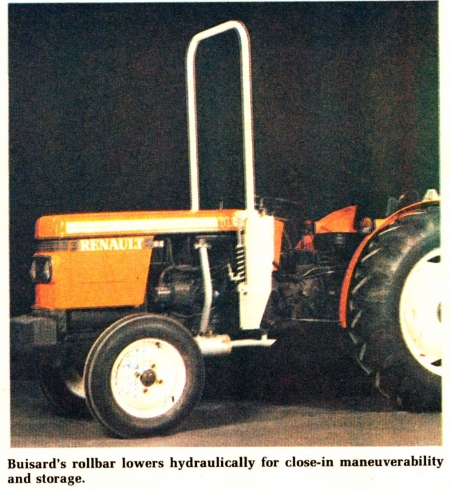 Safety regulations are tough in Europe, requiring rollbars and special tractor cabs. Out of the need to comply with those regulations comes a unique new roll bar for small to mid-size tractors that may suit many North American farmers.
The Buisard Company in Sable-Sur-Sarthe, France, developed what they say is the world's first retractable tractor rollbar. Tapping into the tractor hydraulics, the rollbar raises and lowers in just seconds.
"We made it retractable because many of our farmers work in hilly areas where they need protection, yet they have to do close-in work -- such as in their vineyards -- where the rollbar would be in the way. It also makes storing a tractor easier," says Jean Galopin, director of sales.
Since the rollbar uses hydraulics only to raise and lower, it "T's" into the tractor system without affecting overall capacity. Controls within easy reach of the operator raise and lower the bar and automatically lock it into position.
The new rollbar is designed so far to fit the four most popular tractors in France -- Renault, Lamborghini, Same and Massey Ferguson -- but will soon by available for all lines, according to Buisard.