Add-On Brackets Improve Header Performance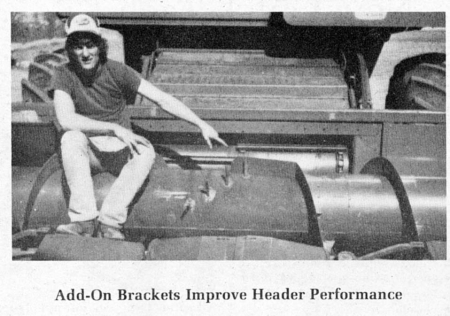 Simple, do-it-yourself brackets, designed by Harvey Bish, of Giltner, Neb., improve combine header performance when the crop is short and not much material is moving into the machine. Harvey was harvesting a short-growing crop of soybeans with his Deere Row Crop header when he hit on the idea of installing the brackets. "In places where the crop was short and thin, it wouldn't feed into the feeder house and would plug up. To keep it from bunching up, I installed these positive feed brackets which solved the problem."
The add-on brackets, made from 3/16 by 4-in. scrap iron, keep material moving after the long, retractable fingers on the header let go of it. "The brackets should be made long enough to extend just beyond the center of the feeder house, and also should be tipped at a slight angle so as not to carry material around with them as they rotate," Harvey points out. Harvey is the designer manufacturer of the popular Bish Adapter which allows one brand of header to be used interchangeably on another brand combine. His latest new kit, for example, adapts Deere soybean and corn heads to the new Gleaner N6 rotary combine. Another popular seller is his Quick Tach kit for putting the Massey Ferguson grain header on Deere (1970 and newer) and Gleaner combines.