Oil-Fired Crop Dryer Doubles As Furnace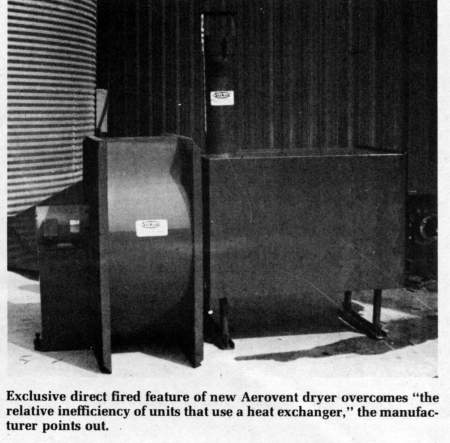 "Demand is good and should remain so with the predicted energy shortage," reports Eugene Sukup, president of Sukup Manufacturing, Sheffield, Iowa. The firm has introduced Heat Wave, a fuel-oil fired heat exchanger that "beats the shortages and the high cost of propane."
The unit's fuel oil burner is exhausted to prevent fumes from going through the grain to cause odor problems. Because of its design for exhausting fumes and odors, it can be used during the off-season as a furnace to heat farm shops or other buildings, the manufacturer points out. It burns No. 2 fuel oil and delivers up to 1 million btu's/hr. For crop drying, it installs by simply bolting it onto a centrifugal-type fan.
Last year, Sukup used the new fuel oil-fired Heat Wave to dry corn on his own farm. "We dried approximately 8,000 bu. of corn and removed 10 points of moisture from 24 to 14 points. With fuel oil and electricity, we averaged about 6 cents per bu. cost."