Greenhouse Window For Green Thumbers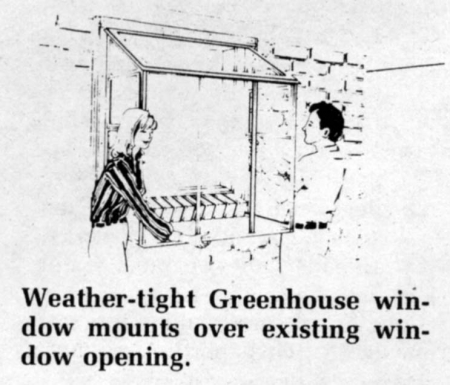 "It offers greenhouse results without the expense of building a greenhouse," says Jim Paulson, national sales manager for the new Greenhouse Window by Alenco.
Vents on each side, complete with screens, serve as windows. The glass is double paned to minimize heat loss. Other features of the weather-tight unit include baked-on bronze or white enamel finish over all aluminum frame construction, and adjustable mesh shelving.
"A south-facing window is the ideal location," says Paulson. "If this location provides more sun than some plants can stand, put a piece of Scotch tint over the top pane."
Available in 12 standard sizes ranging from 50 to 65 in. wide, 41 to 56 in. high and 12 to 16 in. deep. For large windows, two units can be mounted side by side. Comes completely assembled and ready for do-it-yourself mounting.