Self-Propelled Garden Cart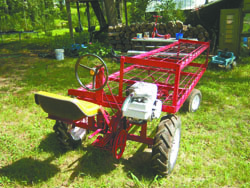 Self-Propelled Garden Cart "I didn't want to pay for a battery-powered nursery garden cart. So I built my own gas-powered model," says Mark Jenkins, Nevada, Mo.
The low-profile garden cart measures 9 ft. long and has a 7-ft. long, 2-level table on front that holds up to 27 flats. The table, made from cattle panel welded to a metal frame, can be quickly removed by loosening three bolts.
The cart's rear axle is off an old reel-type riding mower and is fitted with 3-ft. high lug tires, while the front axle is home-built and rides on 15-in. car tires. Power is supplied by a 5 hp Briggs & Stratton gas engine located next to the driver's seat. The engine belt-drives an idler shaft that's connected to a gearbox controlled by a hand clutch. A series of pulleys gear the engine down.
A sprocket is attached to the cart's steering column to turn a shaft that extends all the way to tie rods on the front axle. The seat is off a Deere tractor.
Jenkins has a greenhouse on his farm. He came up with the idea for the cart when he decided to sell plants at a festival.
"I transported the cart with plants on it inside a home-built, enclosed trailer equipped with a fold-up tailgate. Once I get to my location, I back the cart out of the trailer, drive it to my booth site, and start selling plants off it.
"It's surprising how much power and traction this rig has. It rained a lot at the time of the first festival I attended, but even with the table loaded down with plants and with all that weight on front I had no trouble. The rear wheels sank 4 in. into the mud but they didn't spin.
He says the cart also works well for both planting and picking produce. Last spring I used the cart to plant 400 tomatoes in a big garden. I drove the cart into the greenhouse, loaded it up, and then drove to the garden site and started planting.
He used mostly scrap materials to build the machine and two cans of spray paint, which was his biggest expense.