Round Bale Burner Cuts Drying Cost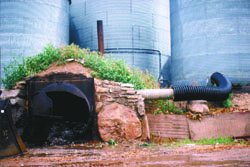 Nick Ries, Hastings, Minn. cut his corn drying natural gas bill by more than half last year with the help of a home-built corn stalk bale burner that pre-heats air for his crop dryer.
The furnace is buried in an earth berm near his bins and is built out of an old asphalt boiler that measures 30 ft. long by 7 ft. in diameter. A door was cut into one end, big enough to slide in large round bales of corn stalk residue. Ries feeds bales into the furnace with a front-end loader.
Channel iron, sq. tubing and plate steel were used to form a jacket around the outside of the firebox, capturing heat that's pulled off by a piece of steel culvert pipe. A length of heavy, flexible plastic tubing runs to the base of the wet grain holding bin. When Ries fires up a bale and then turns on the dryer fan, air is pulled through a wooden ductwork on the other side of the bin and into the dryer.
The burner delivers 95 degree heated air to the dryer. It lowers the humidity which results in fabulous drying, says Ries. We burned two bales per day over a 45-day period and dried about 200,000 bu. of corn. It worked better than I had hoped. There are only a couple of pails full of ash left after burning because it burns so hot.
It really saves on our propane bill. He says each corn stalk bale burns one to two days, depending on outside temperatures.