Slick Swather Snowblower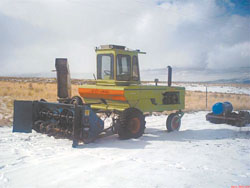 "The hydrostatic drive makes it great for blowing snow," says Nathan Christiansen, Albion, Idaho, who converted an Owatonna swather into a giant snowblower.
He started with a 10-ft. wide Owatonna swather and an 8-ft. wide snowblower. He added 1-ft. wings made of 3/16-in. sheet metal to each side of the blower to match the swather's tire track width. He also installed a heater in the cab.
"The main thing is that you make it perfectly square," Cemper emphasizes. "If you don't, you'll have problems with the steel siding. It's got to be perfect."
He welded 4-in. sq. steel tubing on back of the blower to make mounting brackets, with four pins used to secure the swather. The same cylinders that originally controlled the swather's table height are used to control the snowblower height.
The pto shaft on the swather ran counter to the pto drive on the blower so it needed to be reversed. So he mounted a 15-in. implement tire on the blower drive and a wide pulley that turns against the tire so it reverses drive direction. He got the idea from a story featured in FARM SHOW some years ago (Vol. 21, No. 6).
"By adjusting air pressure in the tire, I can adjust blower slippage to protect it from damage if a foreign object goes through it," says Christiansen, who uses the swather snowblower on his 1/4-mile driveway.
With hydrostatic drive I can go as slow or fast as I want without overloading the snowblower and burning up the clutch. The snowblower throws snow out 50 ft. or more.