Rotary Fork Makes Straw Spreading Easy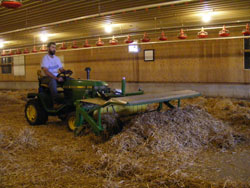 Canadian poultry growers are enthusiastic about a new rotary fork that makes it easy to spread straw in poultry barns. Inventor Scott Campbell plans to introduce it to U.S. poultry growers soon at the International Poultry Expo in Atlanta.
"It's like a thousand tiny pitch forks going round and round," Campbell explains. "The tines are set a certain distance from the floor. If the straw is above this set point it's kicked forward to fill in the next low spot. If the straw is below this level, it stays."
The rotary fork replaces hand spreading, tub grinding and blowing straw -- dusty, labor-intensive methods that don't always leave an even layer of straw.
"Flat straw really helps the chicks. If the straw is flat, every chick in the barn has water nipples at the same level, and the starter feed set out on the paper spreads out and is easily accessible to them," Campbell says.
He uses just 1/2-in. of straw to start his chicks, but his rotary fork will spread straw up to 4 in. deep.
After five years of building prototypes, the Stratford, Ont., chicken producer, figured how to mount the rotary fork on the push blades of most small utility tractors -- including Steiner, Ventrac, Deere and Kubota. The blade is left in place and simply slips into a C-channel at the top of the rotary fork. A couple of collars slip around the back of the blade, and the tool is secured by tightening thumb screws -- no tools are required. Hook up the quick-attach hydraulics, and the machine is ready to go.
To test his rotary fork during development, Campbell spread straw for free for other poultry growers. It gave him a chance to test the rotary fork on different tractor models and different quality bedding. By early October this year he had raked 1.2 million square feet with the prototypes, and his latest design was holding up well.
"Although fine-chopped bales work best, it will spread any length of straw," Campbell says. "Since last season was such a rough year to put up good straw, I've been challenged with lots of lumpy material but the rake handles it all quite well."
Campbell had a video made for his website to show how it's done. First he breaks apart the bales with the blade of the tractor. Then he attaches the rotary fork and spreads it evenly. Lumpy straw sometimes requires additional passes. It takes Campbell an hour to spread good straw in a 25,000 sq. ft. barn.
"The biggest benefit is you can do this yourself in a controlled environment. You don't have to rely on big equipment and high repair costs," Campbell says.

"Although I was raised on this chicken farm, I was educated as a mechanical engineer and I have more than 10 years experience in automotive design," Campbell says. "In automotive I learned that you need rigorous testing, bulletproof design and impossibly low cost. That was also my goal with the rotary fork."
He is working with local tool shops that once served the automotive industry to build parts for his rotary fork. He plans to assemble and market them himself.
"My goal is to have the assembled price lower than an enterprising farmer could buy the individual components," Campbell says. "Also, since I have set my eyes on a large geographical market, all parts on the rake need to be readily available at farm supply stores and dealerships."
He plans to sell the 5-ft. 8-in. wide rotary fork. He's also building a 7-ft. wide model. The rotary forks should be on the market by the end of this year. Campbell is interested in hearing from distributors in the U.S. and Canada.