Rock And Roll Bale Shredder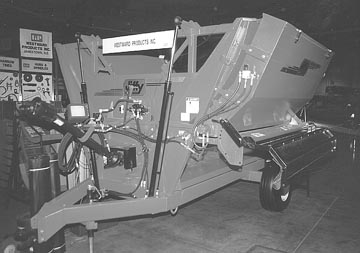 You can shred any round bale, no matter its size, shape, or condition, with this first-of-its-kind bale shredder, says Westward Produgts, Jamestown, N. Dak.
The two-wheeled, pto-driven "Jiffy" bale shredder is designed to load itself with one bale and carry another one and is equipped with a separate steel rocking cradle that mounts inside the tub. The cradle is rocked back and forth by a pair of two-way hydraulic cylinders mounted on front of the tub. As one cylinder is extended, the other retracts to move the cradle in one direction. The direction of the cradle is reversed as soon as a steel arm contacts a stop. The bale rides over a big shaft equipped with steel knives that runs lengthwise along the bottom of the tub. The shredded hay is thrown out in a pattern up to 45 ft. wide or you can lower a shield to direct the hay into a windrow on the ground.
An optional grain feeder can be mounted on one side of the tub and used to discharge grain on top of the hay windrow at the back of the machine.
"It'll handle any type of bale, including round and small or big square bales, including high moisture bales which are often uneven in shape. The condition of the bale doesn't matter," says Scott Waldie, sales manager. "Other shredders have trouble dealing with bales in unfavorable condition which prevents them from being shredded. It'll even shred frozen bales. The bale gets shredded off on one side only, so if the outside of the bale is rotten it will get mixed in with the good hay a little at a time instead of all at once. That way the animals will eat it all up. Another advantage is that it doesn't have any gearboxes, chains, or belts to maintain.
"It was developed in Alberta where a lot of bales end up frozen to the ground. As a result the loading forks are designed with a lot of lifting capacity and don't have any problem jerking frozen bales off the ground."