Add-On Engine Drives Pto On 4-WD Tractor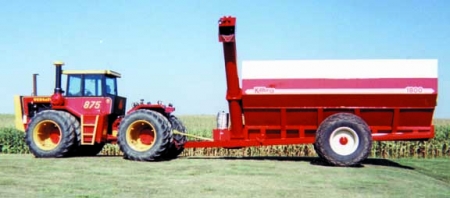 A lot of big, older 4-WD tractors aren't equipped with pto's. Gary Lantz, Augusta, Ill., corrected that situation on his 1979 Versatile 875 4-WD tractor by mounting a Chevy 350 cu. in. gas engine between the tractor's rear wheels. The engine shaft-drives a drop box with a self-contained clutch pack off a 1970's Case 1200 4-WD tractor. A small hydraulic cylinder, driven off tractor hydraulics and connected to a steel arm, engages the clutch pack to turn the pto on or off.
Inventions are nothing new for Lantz, who invented the Seed Jet bulk seed handler now sold by Yetter Mfg., Colchester, Ill.
Lantz turns a key inside the cab to start the add-on engine and uses the engine throttle to control the pto's speed. A beer keg bolted onto the auger wagon he pulls with the tractor serves as a 15-gal. gas tank for the engine, which is equipped with an electronic fuel pump.
"I use the tractor to pull my big 1,000-bu. Killbros auger wagon," says Lantz. "The wagon was too big for my 2-WD tractor and has an 18-in. dia. auger so there was no way I could use a hydraulic motor to operate it. At first I installed a 2-cyl. Deutz diesel engine and used it to operate a 470 bu. auger wagon equipped with a 10-in. dia. auger. However, that engine had barely enough power to operate the pto so when I bought the 1,000-bu. wagon I converted to the Chevy engine. It has about 150 to 170 horsepower.
"When Versatile tractors were first sold they could be equipped with an optional pto. However, it really made the tractor complicated because to install it the transmission had to come out so that a shaft could be run through it to the clutch. It was hard to service and actually reduced the tractor's resale value.
"The Chevy engine came with a governor and its speed happened to be just right for turning the pto at 1,000 rpm's. I used the Case tractor's drop box because it had its own clutch pack, which allows me to turn the drop box on or off independent of the engine. The cylinder that operates the clutch pack is off a fertilizer spinner spreader."
Lantz ran hoses from the tractor's water-cooled diesel engine back to the add-on gas engine in order to keep it cool. "In cold weather I can start the add-on engine first in order to warm up the diesel engine before I start it. It'll warm the tractor engine up to about 160 degrees."