"Waterbeds" For Dairy Cows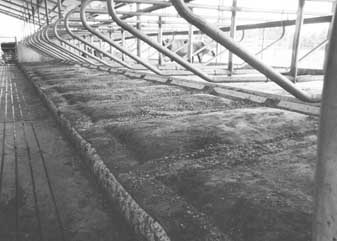 "There's no doubt about it -- cows love waterbeds," says Gail Foxworthy, Kent City, Mich., about the new "Georgia Duck" cow mats that are filled with water.
The waterbed mat consists of two layers of rubber that form bladders. They come in rolls 44, 46, and 48 in. wide, depending on cow size. To install them you lay the roll out, cut it off, and drill holes in a 6-in. wide fastener strip on each side of the stall. The strips bolt to the floor. Then you hook a garden hose up to each bladder to fill them with water.
"There's no place on the waterbed that isn't comfortable," says Foxworthy. "The soft rubber cover and water flotation reduces injuries to cows and results in fewer bruised and cut knees, fewer damage hocks, and less injury to udders and teats. The cow floats on water, with the waterbed molding itself to the cow's shape. The non-slip rubber upper surface keeps her from slipping off. If you want you can add either calcium chloride or recreational vehicle antifreeze to the water to keep it from freezing during winter.
"Waterbed mats offer superior all-around hygiene -- the rounded shape and seamless construction allows water to drain and eliminates any dimples or dips that could hold urine or dung. Also, it's a closed system so bacteria can't grow inside the mattress. You can clean the waterbed with any high pressure washer. A pressure gauge or height gauge can be used to determine the correct inflation."
According to Foxworthy, waterbed cow mats have been used in Europe for about four years where tests show they can increase milk production by up to 30 percent. "They're finishing a trial in Europe now that anticipates one more gestation period during the life of the cow. That means more profit."
Foxworthy will exhibit the waterbeds at the upcoming World Dairy Expo in Madison, Wis. The waterbeds have an expected life of 15 to 20 years and are guaranteed for 10 years.

Foxworthy .also sells new "Poly Pillows" that can be fastened onto the floor in front of the bladder. The pillow keeps the cow back in the stall so she doesn't lose lunge space forward and also keeps manure off the waterbed.