Farmer's 4-WD Is Dream Come True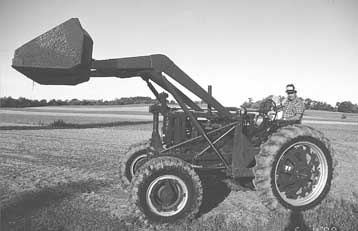 Elmer Breneman always figured that if he could add front wheel assist to his Farmall F-20, he'd have a dream chore tractor.
It took him more than 20 years to do it, but the Manheim, Penn. farmer finally did it and he reports that the modified F-20 works great whether hauling manure in the winter or working with the farm's vegetable crops the rest of the year. But, it was a conversion he doesn't plan to repeat on other tractors.
"Adding front wheel assist wouldn't be nearly so easy on any other kind of tractor," explains Breneman.
He points out that the F-20 has an input shaft that goes from the differential to the transmission and then out the front end of the transmission case. Originally, the design allowed a fifth gear to be added. Breneman simply mounted a 5-in. sprocket on the end of the shaft. To make room for the sprocket and chain drive, he remounted the differential upside down.
The front drive axle was pulled from a 1971 International Loadstar truck that Breneman bought. The axle was cut down 7 in. to match the back wheel width on the tractor. He attached a 16-in. sprocket to the axle's driveshaft and then enclosed both sprockets and drive chains in a sealed oil bath.

"Everything works well right now.

"The sprocket-to-sprocket ratio turns the front wheels five percent faster than the rear wheels to accommodate turns," says Breneman. "Some front drive tractors turn their front wheels ten percent faster, but I feel that's too fast."
The Loadstar axle came with traction grip tread tires mounted on it. Breneman expects they'll last him 20 years. He did have to mount larger tires on the rear, moving from 10 by 36's to 13.6 by 38's, raising the overall height of the rear end to match the height of the front end with its larger tires.
"Everything works well so far. The hardest part was finding the time to do it."