3-Wheeled Mower Kicks Grass Out Both Sides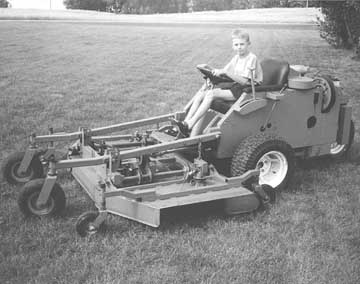 "I designed this 3-wheeled 6-ft. ditch mower so it would float over the uneven contours of our yard," says Jack Zulkoskey, Prince Albert, Sask.
"I built the power unit from scratch, using 2-in. square tubing for the frame. It's fitted with a Wisconsin 4-cyl. air-cooled engine that's mounted behind and below the driver. It connects up to a variable-speed, belt-driven transmission salvaged from a swather. The transmission is controlled by a lever up front. I used a cone clutch connected hydraulically to the clutch pedal. I also used a 3-speed transmission salvaged from a small car for forward and reverse gears. A differential from a Toyota car drives the axle. The front axle is fitted with a pair of wide 23 by 9.5 by 12-in. tires while the rear is equipped with a single 22.5 by 7.5 by 12-in. tire for steering. A Toyota steering wheel connects to the rear wheel by cable and roller chain. The steering wheel and its shaft lift out easily when getting on or off the mower.
"I built the deck in three parts -- a 32-in. center section with two 20-in. outer sections. The two 20-in. sections are able to flex up and down to flow with the contours of the lawn. They can also be raised up 90 degrees for transport or storage. The four spindles used are each belt-driven from two jack shafts, one on each side, and their rotation is such that grass is discharged from both sides of the mower, which works very well.
"All power is transmitted on the deck by belts. No gearboxes are used. Because of this, the belts that drive the spindles are twisted 90 degrees and special idlers are required, which was a bit complicated to set up. It seems like the belts will last about a season, which I don't think is too bad.
"This mower is comfortable, powerful, maneuverable and very easy to operate. Makes quick work of mowing the lawn and does the work of mowers that cost thousands of dollars."