Tractor-To-Buggy Conversion Kit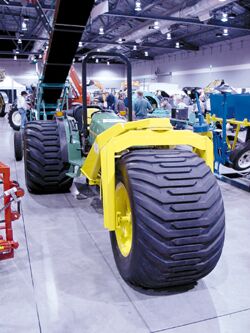 RES Equipment in Woodburn, Ore., has developed tractor to buggy conversion kits that fit small and medium frame tractors. The kits are for high-power, low-weight tractors and designed to apply less ground pressure then other buggies.
The conversion kits maintain the reliability, drive train, multi-speed transmission, and pulling power of a tractor with the field weight of a floater. This is ideal for fertilizing, baiting, spraying, planting, harrowing and rolling.
It is especially useful anyplace there is standing water that might cause a regular tractor to bog down. You can even do operations in standing water if necessary.
The kit can be mounted or taken off in a couple hours, which allows you to switch back and forth during a working day. All the replacement parts are commonly available. The kits have differential locking and turning breaks for rough conditions and the weight of the tractor is equally distributed onto each tire.
The frame is ideal for saddle tanks or a 3-pt. boom system. Depending on the tractor, there can be a weight to horsepower ratio of only 75 lbs. per horsepower.