17-Year Old Sumbled Across Prize Winning Silkies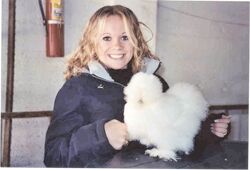 Amanda Samuelson was stuck on Silkies from the time she first saw them on the internet. Although one of the oldest of chicken breeds, the bantam-size chickens are far from common with their hair-like feathers and fluffy heads. With eggs the size of ping pong balls, they are prized only as ornamental pets or as brooding hens for difficult to hatch eggs.
The 17-year-old had raised other breeds of chickens in the past. The look and temperament of the Silkie caught the teenager's attention.
"We heard about a guy in a neighboring town that might have some," recalls Samuelson. "He had found a breeding pair at an auction and got 7 chicks from them."
Samuelson raised 4 of the chicks and exhibited them at her county fair. She won a trip to the Minnesota State Fair where she won reserve champion. Bystanders urged her to enter them in an open show so she went to the Eastern National Silkie Show held in Menominee, Wis. One of her hens won grand champion among more than 100 Silkies. She also won the feather legged class and bantam class for the overall grand champion out of 1,000 birds at the show.
"We got lucky when we found these birds," says Samuelson's mother Lorrie.
The mother and daughter have made the most of their luck. They have built the flock from 7 to 28 and hatched out more than 80 chicks this winter.
Lorrie credits other breeders and judges they have met at shows with giving them advice on raising and showing. Her daughter also turns to the Standards of Perfection for the breed, put out by the American Poultry Association, when selecting birds for show.
The birds are fed a high protein game bird diet. The flock is kept in heated quarters during the winter to encourage egg production during November and December. Chicks hatched in December and January will be the appropriate age for the summer fair season.
The birds may be white, partridge, gray, splash, black, or buff and bearded or non-bearded. Only white or black have been bred for showing. All have black skin and black bones and are used for black bone soup in their native China.
Full grown hens average about 27 oz. while the roosters are about 32 oz. Samuelson keeps show birds in a cage prior to shows to keep them clean. She shampoos them and blow-dries them for each show. "They are really gentle, perhaps because they can't really see you when you come into their pen," says Samuelson. "All they can do is look down at your feet."