Just A Pinch Grows Tomatoes Tall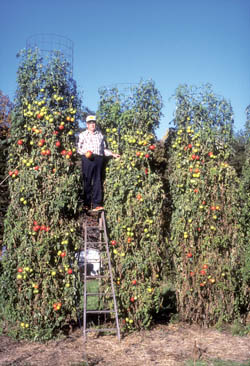 Photo courtesy of Acres U.S.A.
You've never seen tall tomatoes until you've seen Charles Wilber's. One cherry tomato plant reached 28 ft. 7 in. tall. They not only grow tall, they produce lots of fruit. Four plants produced 1,368 lbs. of tomatoes to earn a cover picture on the Guinness Book of Records. Pinching back suckers was a vital part of how he did it.
In his book, How to Grow World Record Tomatoes, the Alabama gardener describes his pruning plan, as well as planting, watering and all-organic plant feeding techniques. The garden consultant uses 3-ft. diameter cages. His pruning technique makes it work.
"Suckers, if allowed to grow, become full-fledged stems, which in turn will send off suckers, which in turn will send off more suckers, forking again and again," says Wilber. "If these suckers are pinched off, the stem can be trained to grow straight up the cage."
Some gardening experts suggest pinching off many suckers and fruit clusters because the plant can't support them. Wilber's strategy, with his well-fed plants, is rather to selectively pinch suckers that grow from the crotch between leaf and stem, but not the fruit clusters that grow from the stem. This produces the maximum height, encouraging fruit production.
"The plant can climb to the top of the cage and then spill over and come back down, or a second cage can be set atop the first," says Wilber.
His ideal plant has 18 branches. The lower 6 branches are allowed to split once for a total of 12 branches. The top two branches are allowed to split three ways each for a total of 6 branches. As each branch develops, it is led to the outside of the cage and trained to grow upward. Suckers that grow on the 18 branches should be pinched off if the branch is weak.
"If the branch is strong, allow the sucker to grow until a fruit cluster appears, pinching off new suckers," advises Wilber.
While the pruning removes new leaf growth, it encourages older, larger leaves. Wilber has recorded bottom leaves up to 28 in. long.
Key to proper pruning is to pinch, not cut the suckers, emphasizes Wilber, who advocates using a tweezers to pull off suckers early. Timing is also important. He advocates pinching suckers off before they reach 1 1/4 to 1 1/2 in. long. If they are bigger, pinching will create a wound that bleeds and stresses the plant.
Another important tip is to tie branches loosely to the cage once they reach it. Wilber suggests using soft, three-ply string and attaching the branch to a vertical wire on the cage. As the branch grows upward, continue retying it to vertical wires, pinching off new suckers as they appear. This keeps fruit clusters also on the outside of the cage for easy picking.
While Wilber, now in his late 80s, is no longer taking calls, his book reveals his secrets. It is available from Acres USA.