Garden Tractor Has Front-End Loader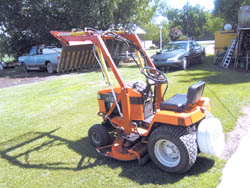 Having a lawn tractor with a front-end loader is extremely useful, says Mel Primrose of Westlock, Alta.
The talented handyman built his own loader, around the tractor's mower deck so he wouldn't have to remove one in order to use the other. He says the Ariens 18.5-hp tractor is a lot more useful now.
He runs the hydraulic pump off a belt that runs back to the motor from the front end.
"One leg of the loader serves as the hydraulic oil reservoir," he explains. "It takes the oil out of one side, and puts it back in the other at close to the same level, so that no bubbles form."
To serve as a counterweight at the back of the tractor, Primrose used the brake drum off a large truck. It weighs about 100 lbs. and hooks onto a bracket that he added. The weight can be lifted off when not needed.
The fork, which he uses for loading manure, has 10 20-in. teeth made out of sucker rod. For handling sand or gravel, a sheet metal plate clamps on over the teeth to save putting on a bucket.
"I don't know how I ever got along without it over the years. It's just so handy," he says. "It's powerful enough to dig out a 10-ft. high tree."