2-Wheeled Diesel ATV Now On The Market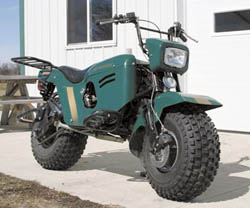 That 2-wheeled, diesel-powered ATV we told you about (Vol. 30, No. 1) is now on the market in the U.S.
Manufactured in Scotland, the Ecorider has a high torque transmission and low center of gravity, allowing it to tackle steep hills with improved ease and safety.
The Ecorider stands about 4 ft. high, 6 1/2 ft. long and weighs 331 lbs. It runs at speeds up to 32 mph on 11-in. wide tires. Ground pressure is only 2 psi. According to the company, the wide tires cause less damage to the ground than a person on foot and let you drive over wet ground with minimal damage.
Power is provided by a Hatz German 230 cc diesel engine which also runs on bio fuel. It gets up to 120 miles per gallon. A Kohler gas engine model is also available. The engines are interchangeable, as the frame is pre-drilled to accept both engines types.
The machine has an electric starter with back-up pull start, and hydraulic caliper disc brakes front and rear.
According to U.S. distributor Sean Dempsey, the Ecorider is super easy to ride because of the wide tires, low center of gravity, and automatic transmission. "I use one on my own 3,000-acre farm. I bought it because I got sick and tired of spending so much money on conventional ATV's and then paying for expensive maintenance and gas. I put about 70 miles a week on it but use only .7 of one gallon of diesel fuel. It's a good feeling when you go to refill the fuel tank.
"Today's ATV's are getting so complicated that you have to take them to dealers for repairs. The Ecorider is simple without a lot of complicated electronics, which makes it easy to work on. It's just right for doing chores around a small farm. We have 100 head of registered Holsteins so I use it to check on the animals, do pasture work, check fences, etc. I take my dog with me and welded an expanded metal grating over the Ecorider's rear rack so the dog's feet don't fall through the rack."
The machine comes with a load rack and a tow bar with ball hitch on back, and can pull trailers that weigh up to 550 lbs. The automatic transmission comes with high and low gears and reverse for backing up.
Available only in Forest Green.