14-Ft. Long WD 45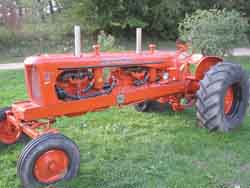 Denis Post's WD 45 tractor attracts long stares when he takes it out in public. The tractor is 14 ft., 7 in. long and has 2 hoods to cover the twin engines underneath.
"I was looking for a challenge," Post says. He started with a rusted WD 45 he purchased from a neighbor. It had been parked in the weeds for years. To restore and convert the tractor, Post had to recreate the structure and the mechanical parts of the tractor. The first thing he had to do was lengthen it.
"Welding the side frames was a real challenge," he explains. "It's really important to have frames perfectly straight, or the drive shaft will bind. It has to be perfect."
On his first try he was reminded that the steel in channel iron warps when welded. Fortunately he had several frames on hand. The next time he clamped the two pieces together and welded one side. It warped. When he welded the other side it warped back, making it straight again.
Post built the second engine from parts he had from half a dozen old Allis Chalmers tractors. Connecting it to the engine in the WD 45 created several challenges. Post hooked up just one governor and one radiator for both of them, which required designing on the fly.
"I used pretty much what I had around the shop," Post notes. He purchased some new rings and hired machine shop work on the drive shaft and universal joint to connect the engines.
He finished the project off with a first-class paint job and supersized wheels from an old Gleaner combine.
It's drivable and usable for everything," Post said, noting he uses it for hauling hay and other small jobs around his dairy farm.
But it's become more of a show tractor. Less than a year after he started working on it the tractor debuted as a down-home limo, pulling a bale wagon for his daughter's wedding party.
He took it to another local event and hopes to get a trailer so he can haul it to area parades.
"The more generic that tractors are getting today and the more technically advanced, it seems that people like their old colors. They're almost heirlooms," Post says. "If you see something you want to do, try it. Even if it doesn't work out you've got the experience, no matter what color it is."
Allis Chalmers is part of his family's history. He remembers the WD his father bought in 1950. Post's goal is to restore an Allis Chalmers tractor for each of his grandchildren (No. 12 is on the way).
"So I've got a really good excuse to buy a lot of old tractors," he laughs.