Mow Your Lawn With Mini Horses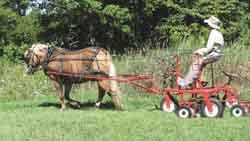 Have you ever wondered what you could do with a mini horse or donkey? How about using it to pull a reel mower cart to mow your yard?
Omar Fisher of Mascot Sharpening and Sales has specialized in reel mowers since 1986 when he started his sharpening business.
Recognizing a growing interest in raising mini horses, he and a welder designed the Mini Gang Mower, which makes a 21-in. cut and comes with shafts in two sizes for a mini horse or small pony. The mower has a seat and foot pedal steering.
"Half of our customers aren't Amish," Fisher says. "They have horses and want to put them to work. They mow their lawns."
With a growing interest in miniature horses, he's had customers from a variety of locations in the U.S. and Canada as well as Sweden.
All of his business's mowers have heat-treated, hardened knives and reels, are available in steel or rubber wheels and have a three-year warranty.
A model with three mower gangs and a 58-in. cut is his best seller. The company also offers a variety of sizes and styles, including a 5-gang mower with a 92-in. cut that can be pulled with a 4-wheeler or small tractor.