Rotary Mower Was Ahead Of Its Time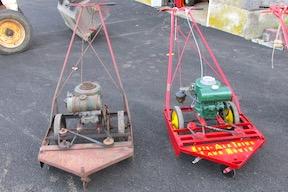 Dave Stehman remembers his father and grandfather mowing cemetery plots in small-town Pennsylvania using a manual reel mower. Although the mower worked reasonably well, a second pass with a scythe was usually necessary to cut the tough grassy spikes that remained standing.
In the 1930's, inventor Adam G. Fahnestock moved to nearby Lancaster County and developed a mower based largely on the horizontal scythe. He received a patent in 1940 for his invention, which he dubbed the Kuts-Al & Trims mower.
"It was years ahead of its time," says Stehman. "I feel it was the first rotary mower ever made. Everything patented after was patterned after his invention."
His original mowers were driven by either a Tecumseh or Wisconsin motor running horizontal shafts and gearboxes above the blades. Later models did away with the gearboxes as they didn't stand up well to the rough workload. Instead, they used a vertical shaft with a belt drive and pulley system.
"They didn't throw grass everywhere and ran very quietly. The 2-in. long high carbon steel flail blades were bolted to long bars that ran constantly. The Kuts-Al & Trims mower would cut evenly in one pass and take care of all the tough grass and weeds," he says.
Blades spun at approximately 6,000 cuts per minute, cutting right to the edge of the frame. No adjustment for raising or lowering them was possible.
The mowers were also self-propelled with semi-pneumatic wheels driven by a separate belt on the motor.
In recent years, Stehman began collecting and rebuilding the various models and owns several of the Kuts-Al & Trims mowers.
Contact: FARM SHOW Followup, Dave Stehman, 158 Doe Run Rd., Manheim, Penn. 17545 (ph 717-665-5501; www.daveslawngarden.com).