Simple Stands Speed Loader Detach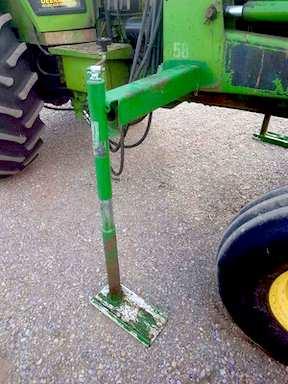 Dan Erdman can drop his older Deere loader in a heartbeat. He just slips a 4-in. by 4-in. square sleeve with an attached screw jack over a 6-in. long, 3 1/2 by 3 1/2-in. square tube welded to his loader frame. Once he has removed a few bolts and unhooked the hoses, the job is done.
"The loader companies have all these different tricks on newer loaders, like turning the bucket just so, so they don't need stands," says Erdman. "I wanted something simple that anyone can understand and do."
His loader stand works great with his Deere 58 loader and the 4430 he mounts it to. "The key is to make the outer tube long enough to clear the front tires when you back the tractor away," says Erdman. "Measure the distance from the loader frame to the outside of your front tires plus a little for easy clearance."
He has 10.00-16s on the 4430. "If I put on a wider tire like a flotation tire, I would have to have a longer outer tube," he adds. "Check also to be sure your front wheels can go underneath the loader stands. If you have front-wheel assist, you might need a different mounting bracket."
Erdman notes that he kept the steel tube welded to the loader frame short enough that it's not in the way. He does allow that it would be easy to slip an upright tool holder over it and pin it in place.
"You could mount anything to it," he says. "Just pin it in place."
Initially, Erdman drilled a hole in the two tubes for a pin. However, he found it wasn't needed.
"The friction provided by the weight of the loader holds the jacks in place," says Erdman.
The screw jack is welded to a base plate made from a short length of channel iron. Erdman used pieces he had laying around; however, he advises they be large enough to prevent the jack from sinking into the ground.
"If I'm not going to use the loader for a longer length of time, like the summer, I'll place lengths of 2-in. by 12-in. boards under the base plate," says Erdman.
Contact: FARM SHOW Followup, Dan Erdman, Claresholm, Alta. Canada.