Home-Built Wood Stove Heats Shop Floor Cheap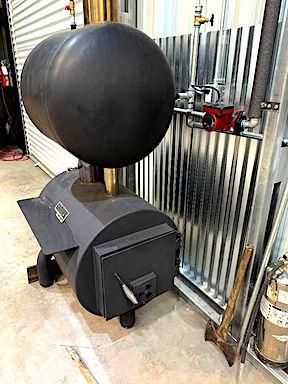 Gary Gradek wanted to keep his shop warm without spending a lot of money, so he built a wood stove and mounted a water tank above it to serve as a heat exchanger. It circulates hot water through Pex tubing installed in the shop's floor.

He installed rows of 1/2-in. dia. Pex tubing in the concrete floor of the 1,200 sq. ft. shop as it was being built. The tubing runs 3/4 the length of the building, which has big storage racks at one end. The tank can be filled by a garden hose that hooks up to a valve mounted on the shop wall. An electric pump circulates water from the tank through insulated, 3/4-in. galvanized steel pipe that extends over a walk-through door and down to a series of valves that control 2 different zones.

"It works great and was relatively inexpensive to build, with the total cost less than $1,000. I used about 1,000 ft. of Pex tubing," says Gradek. "I load wood into the stove a couple of times each day. It increases the shop's floor temperature by about 22 degrees, from 55 to 77 degrees.

"The shop floor is divided into 2 zones. One zone covers an area where I stand and weld, and the tubing is on 6-in. centers. We park vehicles over the other zone, and because less heat is required the tubing is on 18-in. centers."

He used a pair of 24-in. dia., 1/4-in. thick steel pipes to build both the stove and tank. The stove mounts on 3 legs made from 3-in. dia. tubing, and has a door at one end and vents at both ends. A spring-loaded damper controls the temperature inside the stove. Heat and smoke rise through a 6-in. dia. stainless steel pipe welded on between the stove and tank.

To build the tank, Gradek welded steel plates inside both ends of the tank to create water reservoirs. Eight 1 1/4-in. dia. steel tubes run in a loop inside the the length of the tank and through the reservoirs to heat the water.
"I installed a pressure relief valve off a water heater to keep the tank from exploding if it gets too hot," says Gradek.

He paid $200 for the end caps in the water tank and $125 for an electric pump. The valves cost $15 apiece.

As an added touch, Gradek welded a horizontal steel plate onto one side of the stove to keep a coffee pot and cup warm. "I plan to add another shelf to dry my boots," he notes.

Contact: FARM SHOW Followup, Gary Gradek, 497 Kennwood Dr., Ukiah, Calif. 95482 (ph 707 695-6040; gary.gradek@ejgallo.com).