Robotic Rock Picker Coming To Market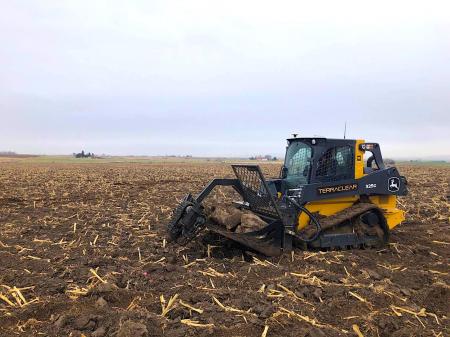 A Washington company named TerraClear uses a drone to make field maps of pick-worthy rocks and calculates the best route for removing them using their own patented rock picker. What's more, they hope to have a robotic rock picker ready for market soon.
TerraClear is one of 10 companies competing for the $50,000 Farm Bureau Ag Innovation Challenge this year.
TerraClear is the brainchild of software and farmland investment fund entrepreneur Brent Frei. The fourth generation Idaho farmer picked plenty of rocks as a youth. If he has his way, that chore may be history. Rock identification, mapping and picking is already being offered as a service in Idaho and eastern Washington.
"The next step is to sell pickers directly to farmers and custom operators," says Thompson. "Soon after will be the automation of that tool, what we call AutoPick, where an operator just needs to drive the tractor or skid steer and the implement sees and picks the rocks. Longer term, we will put the tool on an autonomous platform to remove the operator entirely."
The rock picker was developed in-house and requires at least a 60-hp. skid steer. The universal skid steer mounting plate has quick connections for electric power, hydraulic supply and sensors.
The operator controls the picker via the auxiliary function switches on the skid steer joysticks and connects to these inputs via the typical 14-pin auxiliary electrical connector available on newer skid steers.
The picker uses dual rubber tracks on an articulating arm to grab rocks. The twin tracks work like jaws to open around rocks of 6 to 24-in. size. At the same time, sufficient pressure is maintained to hold them in place as the tracks counter rotate to spit them back and into the grated bucket, sifting out dirt and smaller rocks as it goes.
The arm alone requires 18-gpm peak flow at 3000 psi if all functions are operated simultaneously. It is capable of picking 300 to 400 rocks/hr., depending on the rock density in the field.
Basic components are off-the-shelf tracks adapted from off-road vehicle applications and hydraulic valves, sensors and controllers from heavy construction and agricultural equipment. Cameras and onboard processing systems, which will be necessary for AutoPick, are used in autonomous cars under development.
The Rock Picker component will be available to farmers and service providers this year. The attachment will be priced at $25,000 with discounts for initial rollout. Upgrades with AutoPick and other refinements will be available as they are introduced.
Contact: FARM SHOW Followup, TerraClear Inc., 1709 139th Place NE, Bellevue, Wash. 98005 or 1101 Hill St., Grangeville, Idaho 83530 (info@terraclear.com; www.terraclear.com).