Weed-Killing Steam Machine Can Also Be Used To Clean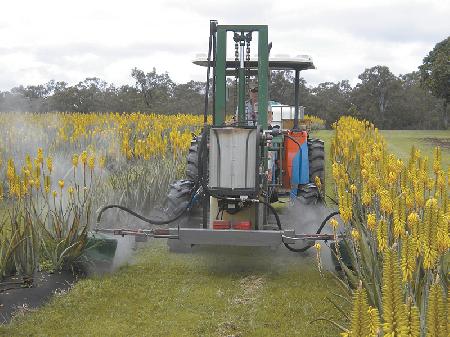 Weedtechnics, an Australian company, has developed saturated steam generators that kill weeds in a single pass. When finished with weed control, the equipment can be used for cleaning and sanitizing equipment and facilities.
"Jeremy Winer, the inventor, has been working in agriculture and landscape his whole career," says Dan Dows, director, Steam "N" Weeds, Weedtechnics" Canadian distributor. "We've worked with it for the past year and a half and are doing local contracting, as well as selling wand and multi-row units."
Dows turned to steam-powered weed control for organic food production. "My family got sick, and we are pretty sure it was due to glyphosate," explains Dows.
Not only does the steam weed control eliminate the need for herbicides, it cooks weeds on contact and is safe for trees and shrubs. It leaves no residuals besides water, doesn't" harm soil microorganisms, and requires no foaming surfactants.
The saturated steam is delivered at 205 to 218 degrees F, but at only 15 psi. It coats target vegetation without affecting surfaces or penetrating more than about 1/4-in. of soil. Effective control depends on the type of weed and stage of growth.
Dows says the current line of Weedtechnics' machines is designed for nurseries, intensive small acre farms, vineyards and orchards. The SW700 is the most compact and is designed for killing weeds in confined areas. It is equipped with a hand applicator wand with a spread of up to 19 in. or a 12 or 24-in. closed head for the wand.
The SW800 can be trailer-mounted or skid-mounted or used with a 3-pt. hitch. It can be equipped with the hand applicator or with one of their Rowtech applicator heads.
The SW900 also offers multiple mounting options. It can support 2 Rowtech applicator heads.
Heads come with 15 or 19-in. coverage width. They offer a nylon or rubber insulating dome skirt that protects nearby plants while directing steam at weeds below. The heads can be mounted on single or dual arms that pivot vertically and horizontally with a breakaway that allows the domes to roll around non-target plants. The heads are also available on a hydraulic arm.
"We will soon be introducing the SW2100," says Dow. "It is the first unit designed for use in commercial farm fields. It has an output of 40 gpm, which can supply up to 8 Rowtech heads."
Dows suggests FARM SHOW readers contact him or Dave Johnson, Steam Cleaners, Inc., the U.S. distributor (www.steamcleanersinc.com; ph 800-648-1118). Prices start at $12,990 for the SW700.