Loader-Mounted Sickle Mower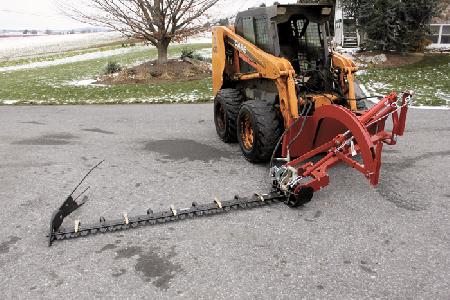 The front-mount sicklebar mower from I & J Manufacturing makes it easy to see what you're cutting. It's designed for use with skid steers, front-end loaders on standard tractors, and even mini-tractors. All that's needed is hydraulic power and a quick-attach configuration.
"These mowers are great for using along pond edges and fences, as well as around posts and other obstacles," says Jacob Blank, I & J Manufacturing. "It's ideal for getting under high tensile fence lines."
The mowers have an ESM double-cutting knife system. Claims for the ESM system, which uses no guards, include no vibration, no clogging, and a wide range of mowing applications. It flexes over rocks and other obstacles.
The mower is available with 5 1/2, 7, 8 and 9-ft. cutting bars and ranges in price from $6,050 to $6,630. The mower with an 8-ft. cutting bar weighs in at about 670 lbs. It has a hydraulic drive that provides cutting action no matter what angle the bar, from horizontal to vertical.
"A hydraulic cylinder controls the angle of the cutting bar," says Blank. "You could shear a tall hedge with it and mow the top or trim the side of a tree or bush. It can mow anywhere the loader arms position it."