Heavy-Duty Hydraulics Power ATV Loader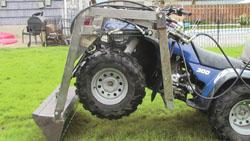 The new EarthMover ATV loader with its 7 1/2 hp hydraulic power pack is a real workhorse. The loader has a 60-in. lift height and a capacity of 500 lbs. The rear-mounted power pack with its 5-gal. reservoir offers plenty of counter weight to the loader.

"I purchased a used Groundhog loader for my Honda ATV, but it didn't have enough lift, was too hard to install, and I didn't like the 12-volt hydraulic pump," says Kevin Gaumitz. "I decided to build my own. It worked so well that I've started building them to sell."

Gaumitz's EarthMover uses 1/8-in., 1 by 3-in. rectangular tubing for most of its frame. He relies on gussets for support where more strength is needed. Like the Groundhog, which is no longer available, the loader mounts to the front rack and, with the aid of a cross member, to the underframe of the ATV.

"I used a flat bar underneath and attached it to the frame with U-bolts," says Gaumitz. "It's easy to attach, takes up very little space and doesn't interfere with changing oil or filter."

Fast and simple mount and remount were key to the design. He estimates the EarthMover will take 45 min. for the first installation. However, subsequent installations should run 10 to 15 min.
"I've used it without a problem on a 300 cc Honda, but it was designed for 400 cc and larger ATV's," says Gaumitz.

The hydraulic power pack with its gas powered Predator engine is the heart of the system. It offers 6-gpm hydraulic pressure, which has proven more than sufficient for the three, double action, 2 by 8-in. hydraulic cylinders and the 45-in. wide, 10-in. tall and 12-in. deep bucket.

"The loader is strong enough to lift the ATV itself off the ground without bending," says Gaumitz. "I've lifted a 650-lb. fireplace without a problem, and I've filled the bucket with dirt in hard-packed ground. If desired, I can supply an even larger power pack."

The power pack can also be used as an auxiliary hydraulic-power source for a wide array of hydraulic powered hand tools offered by Stanley tools. Twin control valves are standard with the EarthMover; however, Gaumitz is considering offering a joystick option.

Gaumitz resolved a concern with ATV suspension systems not being built to handle lifting a 500-lb. load. While the Groundhog loader used shackles to lock the suspension, he modified automotive air shocks for his Honda ATV. Other brands may require other solutions, but suspension needs to be addressed.

"If you have a Honda, get air shocks at an auto parts store or on the internet," says Gaumitz. "I had to grind down the mounting brackets to fit the space, but once in place, they are easy to adjust up or down as needed, whether riding for fun or using the loader. If you sell the ATV, just put the OEM shocks back in place."

Initially, Gaumitz is offering the EarthMover with the bucket for $2,800 plus shipping. He is planning to add on custom designed forks, blades and other tools as requested.